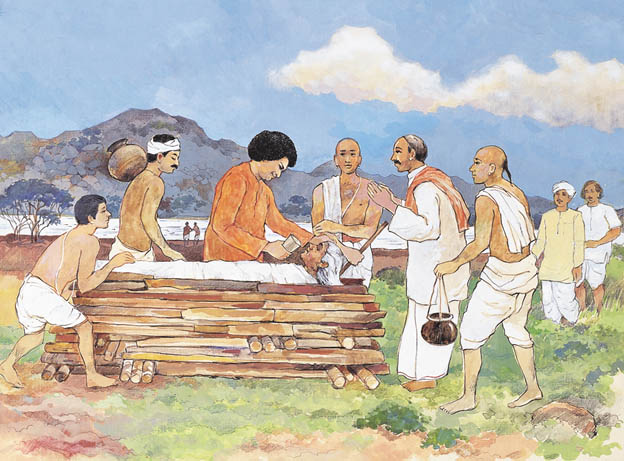 "I will never go back on my word": Subbamma, an ardent devotee of Baba, had prayed that he be with her in the last moments of her life. However, when her ill health took a turn for the worse, Baba was in Chennai, and she breathed her last.
Questions soon arose on Baba's absence, even as funeral arrangements were being made.
When Baba arrived a little later, the relatives commented bitterly, "Baba! Subbamma had great hopes till her last moment that you would come and pour a few drops of water in her mouth. Having served you for so long, could you not have fulfilled her desire at least?"
Even as ants were crawling over her lifeless body, Baba announced, "She is not dead. Please remain quiet." With the tulsi leaves brought by Subbamma's centenarian mother, Baba called Subbamma.
The devoted woman opened her eyes and held Baba's hands tightly, as tears of joy and gratitude rolled down. After exchanging some personal words with the risen Subbamma, He poured the basil water in her mouth, and bade her to close her eyes; she breathed her last soon after, leaving everyone wonder-struck.