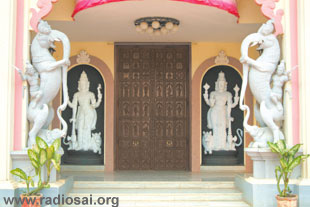 Sundaram, the magnificent edifice, which literally means "Divine Beauty" is special, indeed very special. But what is it that makes it so special? Why is it that all - from slum dwellers to sitting judges of the Madras High Courts, from street hawkers to top industrialists - make a beeline to Sundaram for the Sunday bhajans? Why do Sai devotees from Malaysia, Singapore, Thailand, Australia, etc. make it a point to visit Sundaram when they stopover in Chennai en route to Puttaparthi? Why is it that it is often hailed as "heaven in Chennai" and "a beacon of light" by social workers and statesmen as well as by agnostics?
It is to unravel and reveal the glory of Sundaram to our readers and also equally important, to celebrate the completion of 25 years of its existence, that we have this cover story. Sundaram is special simply because it is an indelible part of Swami's glorious mission. It has not only housed the Lord whenever Swami visited the city after its existence, but also provided comfort and care to thousands of troubled hearts and mangled minds over the last two and a half decades. Miracles have happened at Sundaram. Minds have been moulded and the Lord's presence felt every moment. We will tell you stories of all this and more as you journey along with us on this spiritual voyage of experiencing the sublimity that is Sundaram. Let's start with the very beginning - how did it actually come about?
The Beginning - Swami First Came To Chennai in 1945!
Not many will know that Swami's physical association with Chennai dates back more than six decades now! Swami first stepped in Chennai, then known as Madras, as a nineteen year old young charismatic boy in 1945. Since then He has blessed the city of Chennai with any number of visits, sometimes staying for months together - as in 1950 when He stayed from January to March, or in 1954 when He was there from January to April. Between 1945 and 1997, Swami blessed Chennai with more than sixty-five visits, touched the lives of thousands and gave the opportunity of being His host to many ardent devotees like Mr. Hanumantha Rao, the Raja of Venkatagiri and Sri Venkatamuni, in whose residences Baba stayed in 1950's.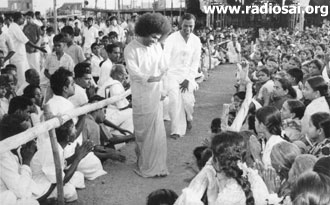 In fact, Chennai had become His temporary headquarters while visiting other places. Be it His visit to Rishikesh and Hardwar in July 1957, or to Tirupati in March 1960 or to Badrinath in June 1961, Chennai was the take off and return station. Even the first All India Conference of Sai Organizations was held in Chennai on 20 th and 21 st April 1967.
While all this was happening, Swami inaugurated "Sathyadeep" – His abode in Mumbai in 1968 and this was followed by the unveiling of "Shivam" in Hyderabad in April 1973.
The Longing of the Devotees for Sundaram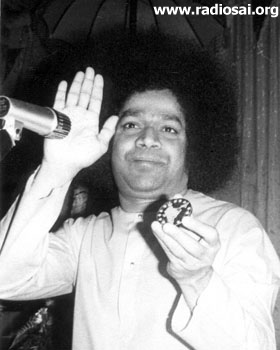 The devotees in Tamil Nadu longed for Swami's blessings to complete the trilogy [of Sathyam, Shivam, Sundaram – the title of Baba's biography] by having "Sundaram" in Chennai. This fervent desire to build an abode for their Lord was there actually even before Shivam was inaugurated. In 1970 itself, a little over six grounds of site became available, but the devotees felt it was not enough to erect an imposing structure. In 1971, by divine design, another six grounds of the very adjacent site along with a building became part of the 'Sundaram site'. But no construction actually began.
Years rolled by. Though there was clear indication from Baba that "Sundaram" was certain to come, nobody knew when. In 1976, during Summer School in Ooty, when Swami materialized a medallion marking all the future Sai Centres, devotees could easily spot Chennai. Their happiness was tinged with sadness - happiness that it was sure to happen, but sadness over it not yet getting started.
The impatience of the devotees got the better of them and they renovated an existing building in April 1976 and even did a "Gruhapravesham" (house warming ceremony). This became the centre of the organization's work but the building was not to be Swami's abode during His visits. "Sundaram" had not yet arrived. Swami even remarked, "It is not Sundaram" with gentle irony! But after that Bhagavan took over.
The Blossoming of Sundaram
Those who were fortunate enough to be present in those days know how Swami's involvement with the design and construction of the new edifice was comprehensive and complete. As the old timers say, "Swami shaped Sundaram brick by brick. He was in fact the architect, the engineer and the builder. Every detail – be it the doors, the imposing gopurams, the frescoes, the statue of Shiva-Parvati at the entrance, the lotus shaped Darshan balcony or even the gates and the visitors' lounges – are all what He fashioned." And Sundaram, true to its name, blossomed with beauty and splendour! And why should it not, with the Loving Lord blessing it with His constant loving gaze and caring touch!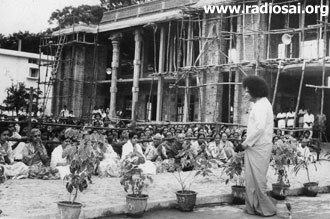 The much awaited day finally dawned. On the 18th of Jan 1981, the "Kalasha Puja" (preliminary worship before inauguration) was done.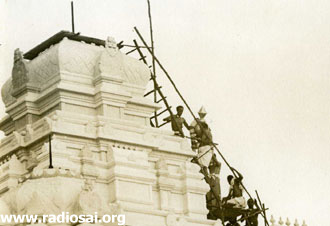 Inauguration of Sundaram
On the 19th Jan morning, there was a grand welcome for Swami. Devotees had gathered since early morning and Sundaram was all decked up for the occasion.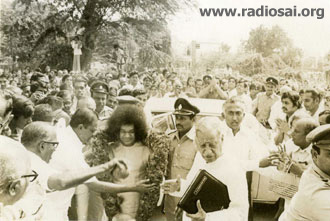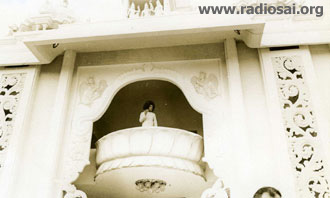 Bhagavan consecrated Sundaram as His "Mandir" on that glorious day when He made it His abode. It was a red-letter day in the history of Chennai and Sai devotees celebrated it in the grandest way possible.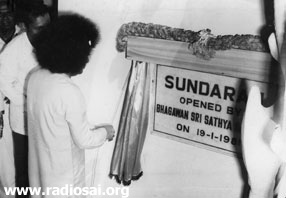 Sweets were distributed, clothes were given away, all the workers were handsomely felicitated and there was joy all around. On the 55th year of His advent, the 55ft "Sundaram" paid her obeisance to her Lord with gratitude and reverence.
The divine rays emanating from Sundaram since then have attracted many spiritual seekers to this holy abode. If we have to describe Sundaram in one phrase, it is 'Beauty with Sublimity'.
Literally 'Sundaram' – Every Detail is Beautiful
Once you cross the threshold of the two gates at Sundaram (one for gents and one for ladies) what welcomes you is a large expanse of sand just like it used to be in Puttaparthi years ago. This is the Darshan ground where the Lord moves among the crowd during His stay in Sundaram.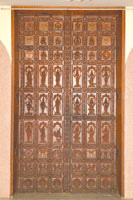 Be it the captivating idols of Lord Ganesha and Lord Subramaniam at the frontal corners of the building, or the beautiful statue of Lord Shiva and Mother Parvati to the left of the entrance to the small prayer hall facing east, or the ornate and exquisite teak wood doors at the Main Darshan Hall with intricate wooden carvings of various deities and religious symbols, or even the aesthetically sculptured two "Yelis" (celestial beings) on the outer entrance to the Main door - every detail of Sundaram is beautiful.
Sundaram is 'vibrant', yet 'still' and 'silent' in the serene peace that pervades.