Relief to the Poor
Sri Sathya Sai Baba has undertaken a number of schemes for improving the economic situation of the rural areas in Anantapur District, which is one of the most backward districts in Andhra Pradesh. Through His projects such as the supply of potable drinking water and the hospitals at Prasanthi Nilayam that provide free medical care, Baba has addressed some of the most basic needs of the people of this region. Baba has also built primary schools in places where the classes were being conducted in the open for lack of proper premises.
Grama Seva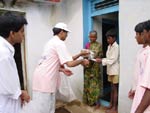 Every year, the students of Baba's university and school, undertook the Grama Seva or village service programme. The students offered packets of food and clothes as Baba's prasadam to every household in the villages they visit. Stationery items such as slates and pencil boxes were also distributed in the village schools. Every year more than a hundred villages were served under this programme. Today this service initiative has taken the form of comprehensive village develpment programme. Students visit an adopted village and help the villagers in the areas of sanitation, personal hygiene, health, education, skills and wellbeing.
Deena Janoddharana Pathakamu

On 24th July 2002, on the occasion of Gurupoornima, Baba inaugurated the Sri Sathya Sai Deena Janoddharana Pathakamu, a scheme under which residential units were constructed to house destitutes and orphaned children belonging to the weaker sections of the society. Sixty children from various villages around Puttaparthi were supported by this scheme. Free housing, food, clothing, education and other daily needs were provided. The residential units were located in in the village of Kammavaripalli behind the western perimeter of the ashram. A school was also built here where the children were provided formal education and were also taught computer skills. This project has also inspired similar projects in other districts of Andhra Pradesh.
Homes for the aged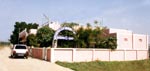 The trust runs Vriddhashrama (Home for the aged) at Kadugodi, Bangalore. The inmates are provided shelter, food and medical care completely free of cost.
Service to community
The Trust has built 11 community halls in the areas around Puttaparthi. In 1978, Baba had built a mosque Jamia Masjid for the village Muslims of Puttaparthi. Until then, the Muslims, mostly poor farmers, prayed in a hut which could accommodate only about 15 worshippers. But they could not afford to build a full-fledged mosque, though they had a site for the purpose. In the nearby town of Kothacheruvu, a junior college was built by the Trust to facilitate education for youth from nearby villages.