Odisha Flood Relief: Housing Project
During the third week of September, 2008, depression in the Bay of Bengal led to heavy rains & floods in the coastal region of the state of Odisha in India. The embankments along the rivers Mahanadi, Brahmani and Baitarani were breached in many places thereby flooding more than 6,000 villages in 18 districts of the state leaving about 4 million people homeless. The districts of Kendrapara, Puri, Jagatsinghpur and Cuttack were the worst affected. Relief work was slow and inadequate due to the continuous inclement weather and insufficient infrastructure. Many roads, bridges and railway tracks were either completely washed away or had become unusable. Having robbed thousands of their houses, properties, livestock, and livelihoods, nature's fury left behind a trail of devastation and despondency of unseen magnitude in recent times in the country.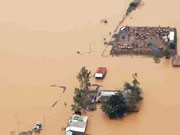 Rivers breached the embankments
and submerged thousands of villages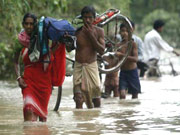 Millions of people lost their
homes and livelihood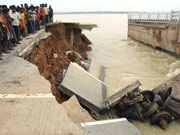 Damaged roads and railway tracks
delayed relief work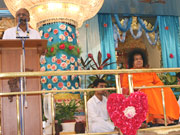 Sri V.Srinivasan announcing Baba's resolve to help the flood-affected people
As an immediate response, with Sri Sathya Sai Baba's blessings, the members of Sri Sathya Sai Seva Organisations in Odisha and its neighbouring states rushed to their brethren in distress with food, clothing, medicines, and other relief materials. But Baba was not content with this. Soon, on 7th October, on the sacred day of Ayudha Pooja during the Dasara festival at Prasanthi Nilayam, the Trust announced a project to rebuild the lost houses of Odisha.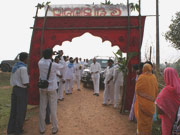 Villagers welcoming members of Sri Sathya Sai Seva Organisations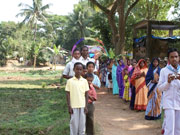 Villagers welcoming members of Sri Sathya Sai Seva Organisations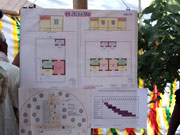 Plans and execution schedule on display at the work site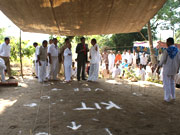 Seeing the plan markings on the ground
A team comprising of representatives of Sri Sathya Sai Central Trust and Sri Sathya Sai Seva Organisation, Odisha conducted detailed surveys in various places. Work began in right earnest on 30th November 2008. All through the construction period, Baba was looking in to every minute detail to ensure that the people would feel happy and comfortable in their new homes. For instance, in places, which are prone to frequent flooding, the houses are being constructed at safe height from the ground level. Also, agriculture being the predominant occupation of the villagers, space had to be all around the house to shelter cattle and also to store the harvest.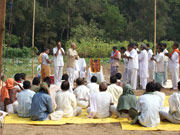 Bhoomi Pooja at Khandahota, Cuttack District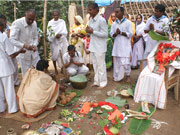 Bhoomi Pooja at Samjodi, Kendrapara District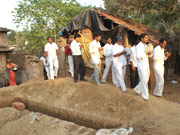 Sai Youth doing Nagarsankeertan at work site in Manibad, Cuttack District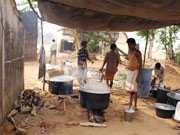 Food preparations underway for Narayana Seva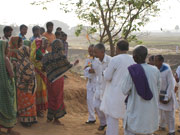 Sri V.Srinivasan being welcomed for the Bhoomi Pooja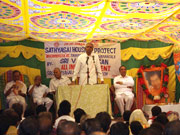 Sri V.Srinivasan addressing a meeting at the site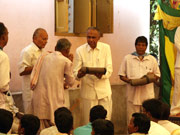 Blankets being distributed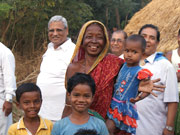 Happy faces all around!
Work was progressing in a planned and phased manner simultaneously in many villages in the districts of Kendrapara, Puri, Jagatsinghpur and Cuttack. Yet another saga of love was being unfolded. this time in a different setting and to a different section of people, but doubtlessly it is the same Divine Love of Baba reaching out to His children.
Pile boring in progress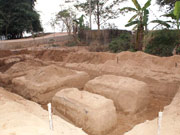 Open foundation of a house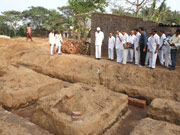 Foundation laying in progress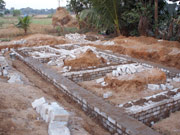 Foundation made of flyash bricks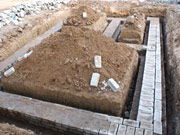 Foundation made of flyash bricks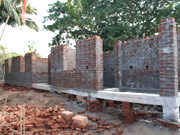 Brick walls have already risen up at Nadiabari site!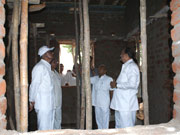 Roofing works in progress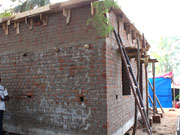 Roofing works in progress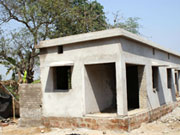 A house in Manibad before painting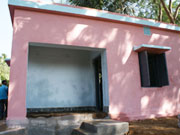 Front view of a completed house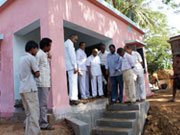 View from the side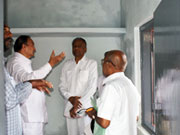 View of the Living room
The construction activity that began in the last week of November 2008 progressed as per schedule and by the end of March 2009, 200 houses were complete in all respects and were ready for occupation. Though the blessed owners of these houses saw the edifice coming up brick by brick in front of their eyes, they could still not believe their good fortune. They were categorized as living below BPL (Below Poverty Line) and for generations together they had been living in huts and therefore owning a concrete house was beyond even their dreams. But if God decides to intervene, is there anything impossible? In order to express their gratitude to God for giving them this wonderful gift, they came to Prasanthi Nilayam to see Him, whom they had not seen or even heard of till about six months back. While the hearts of these innocent villagers overflowed with joy and gratitude to behold their Divine Benefactor, Baba was like an eager mother waiting to welcome and embrace her children in her loving fold. Even from a week before, Baba was making anxious enquiries with the officials of the Seva Organisation and the Ashram to ensure that 'His Guests' would have a comfortable journey to Prasanthi Nilayam and their stay enjoyable at the Ashram.
On 2nd March, the beneficiaries and their family members were seated in the Sai Kulwant Hall, waiting for Divine Darshan. When Baba came, many prostrated on the floor and tears streamed down their faces as they tried to convey their heartfelt feelings to Him. Baba then distributed clothes for all of them - White Dhoti and Angavastram with golden borders for the men folk and bright, colourful sarees for the women. That evening there was a cultural programme by the Odisha devotees called 'Pala' followed by a drama based on the life of Sabari from the Ramayana. If there was one prayer in the hearts and on the lips of all the people from Odisha, it was this - "Baba, please come to Odisha and bless us all. May your holy feet sanctify our land." The people who wept after losing their huts and belongings in the flood of waters, now wept again, but this time it was the flood of Baba's Love.
On 3nd March 2009, the first set of beneficiaries visited Prasanthi Nilayam along with their families to receive the keys to the newly constructed houses. The hearts of the innocent villagers overflowed with joy. Working at a swift pace, by 5th November 2009, a total of around 700 houses had been constructed in 16 villages in the three districts of Cuttack, Kendrapara and Puri, and handed over to the beneficiaries in a record time of less than a year!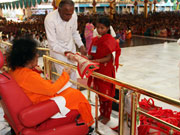 Ladies being distributed Sarees in Baba's Presence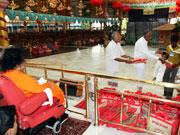 Gents being distributed Dhotis & Angavastram in Baba's Presence
A scene from the drama on Sabari from Ramayana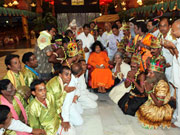 Baba blessing the participants with a group photo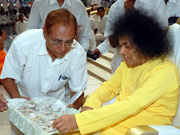 Baba blessing the house keys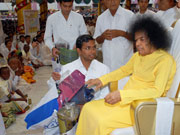 Baba blessing the package containing articles of daily use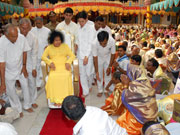 The beneficiaries offering their grateful Pranams to Baba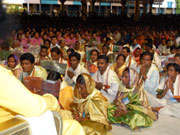 The blessed families in the Divine Presence
When the beneficiaries returned to their respective villages, they were ceremonially welcomed by other villagers for having returned blessed from a holy pilgrimage. On 9th April, 2009, a grand 'Grihapravesham' (housewarming ceremony) was organized by the Sri Sathya Sai Seva Organization, Odisha for all the beneficiary families whose houses were ready for occupation. On that joyous day, the beneficiaries wore the clothes gifted to them by Baba. All the houses were beautifully decorated for the occasion and the entire village wore a festive look. After singing Bhajans and performing Pooja (ceremonial worship), the beneficiaries entered their new houses holding Baba's picture in their hands seeking His divine blessings. Indeed, Baba had not just provided them houses, but had granted them a new life altogether!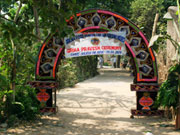 Grihapravesham ceremony in one of the villages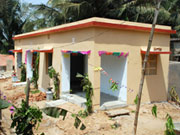 New Houses decorated for the occasion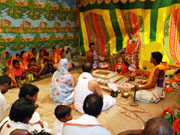 Pooja in progress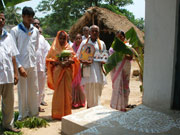 A beneficiary family entering the house with Baba's photo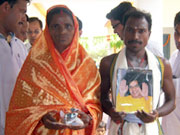 Another beneficiary family entering the house with Baba's photo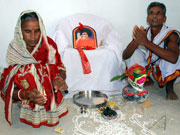 A family is performing Pooja inside their new house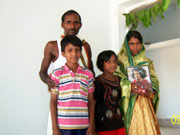 Happy and grateful owners of a new house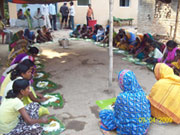 Prasadam being served at the end of the function
With Baba's blessings, about 300 houses were handed over to the beneficiaries by Sri V.Srinivasan, the All India President of Sri Sathya Sai Seva Organisation in a brief function held at TTD Kalyana Mandapam, Bhubaneswar on 2nd July 2009. Further, keys of another 100 houses were distributed by Sri A.Ramakrishna & Sri Kondala Rao in the villages of Cuttack, Kendrapara and Puri districts on 18th & 19th of September, 2009.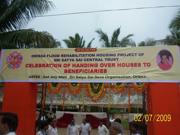 The venue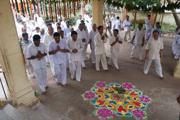 Sri V.Srinivasan arriving at the venue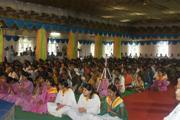 Bhajans in Progress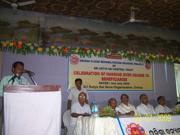 A beneficiary speaks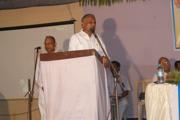 The venue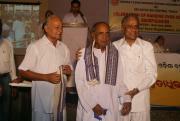 Sri V.Srinivasan arriving at the venue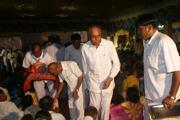 Bhajans in Progress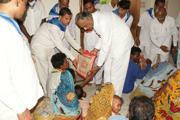 A beneficiary speaks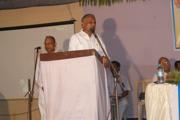 Sri V.Srinivasan addressing the gathering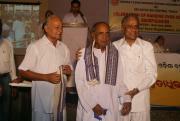 Felicitation of people who helped in the project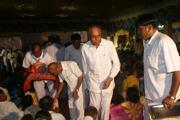 Distribution of house keys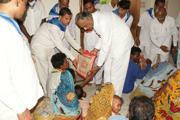 Distribution of clothes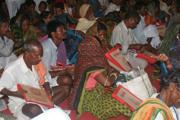 The beneficiaries count their blessings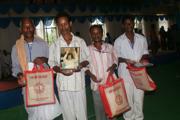 Expressing joy & gratitude to Baba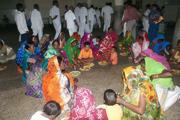 Beneficiaries partaking of Prasadam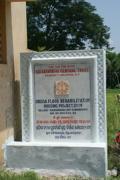 Plaque at Kendrapara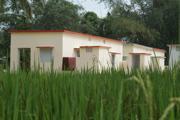 God's bounty
Front-view of the houses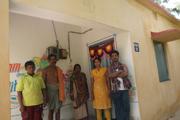 A happy family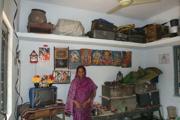 A contented housewife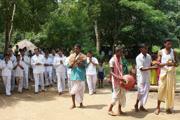 Sri A.Ramakrishna & Sri Kondala Rao being received at Bilipada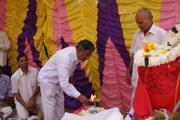 Sri Kondala Rao lighting the lamp to commence the function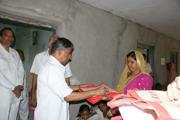 Distribution of keys & clothes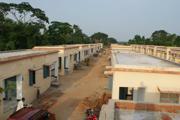 View of completed houses at Rahamba
On 29th October, 2009, on the occasion of the Odisha Disaster Preparedness Day and the National Day for Disaster Reduction, the Government of Odisha decided to express their heartfelt gratitude to Baba for the various activities undertaken in relation to flood relief and reconstruction. In a special function held at Jayadev Bhavan, Bhubaneswar, the Honourable Chief Minister of Odisha, Sri Naveen Patnaik felicitated Sri K. Chakravarthi, Secretary of Sri Sathya Sai Central Trust and conveyed his sincere appreciation as he handed over a trophy and certificate to him. The Trust also constructed new classrooms, got old classrooms repaired and painted at the schools in Billipara of Puri District and Samjori of Kendrapara District.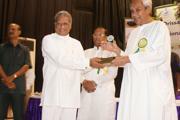 Felicitation by the Honorable Chief Minister of Odisha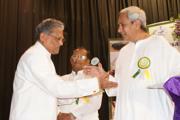 Felicitation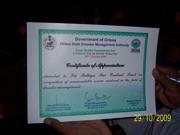 Certificate of appreciation given by the Odisha Government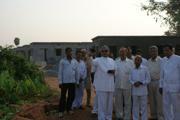 Sri K. Chakravarthi IAS(R) inspecting the houses at Khadikera
There is an interesting incident that took place in the Billipara village that deserves a special mention. The villagers watched with wonder their houses taking shape before their eyes. However, there was one issue that troubled their mind. The village deity Goddess Jageswari that they had been worshipping for generations was still housed under the shade of a tree and there was no structure worth calling a temple around it. How could they show this irreverence to the very God who provided them their new homes? Can we not come together and build a temple in our village, they thought. Soon enough, a well-wishing patron came forward to provide the building materials and the villagers enthusiastically built the temple with their own hands and sweat of their brows. What seemed impossible to the poverty-stricken villagers earlier now became possible. Within four weeks, a new temple sprung up from nowhere. Truly, there is no limit to what Love can achieve!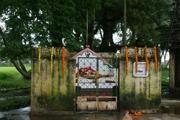 Makeshift temple for Goddess Jageswari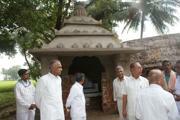 Temple under construction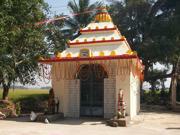 Temple after construction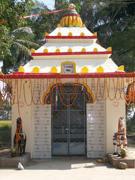 New Temple for the Goddess
On the 5th November, 2009, in the final phase, around 100 houses were handed over to the beneficiaries of Khadikera, Nirmala and Billipara of Puri District at a function in Puri, the district sanctified by the holy temple of Lord Jagannath. The Trust also constructed new classrooms and got old classrooms repaired and painted at the schools in Billipara of Puri District and Samjori of Kendrapara District. Overall, around 700 houses were constructed in 16 villages of three districts of Cuttack, Kendrapara and Puri, and handed over to the beneficiaries in a record time of less than a year! The beneficiaries of the munificence of Baba had only prayer to make their benefactor, nay, the Universal Benefactor… It was a prayer with their hearts filled with love and gratitude to their Lord… "Lord, please come and bless our home state of Odisha with your Divine visit."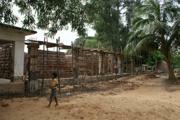 Bilipada School work-in-progress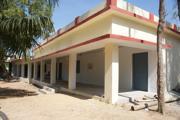 Billipada School outside view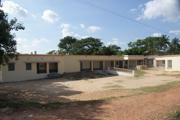 Samjodi School outside view