Welcoming 'The New' … 2020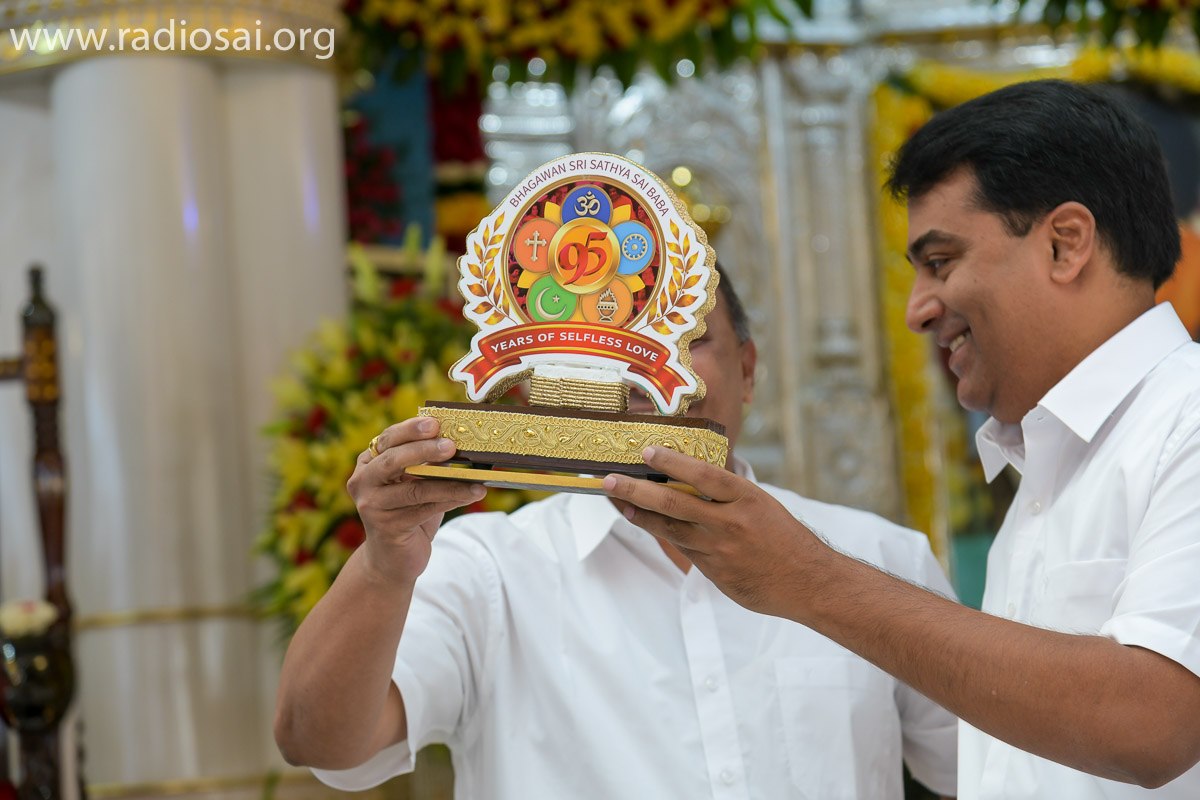 Riding on the wheel of time man is reaching yet another mile-stone today, a New Year and a decade new. Year 2020 is up and Prasanthi Nilayam is abuzz with celebrations galore.
Continuing from the 'high-spirited' offerings in the previous two evenings, the SSSIHL Brass Band commenced the proceedings this morning with a spotless musical display, hitting the right note, beating hearts in tandem for The Master Divine, presenting a short yet scintillating session of band music. Their repertoire for the new year morning included a dedicated piece, Rakshakan, for those martyred lives of Bharat Mata, proud Jawans of India, a piece from Iron Man – 3, Shankara Shiva Shankara, etc. Interspersed with commentary hailing Mother Sai for His benevolence of bringing out the heroes in them, the band members this morning had a unique voice, that they do it to bring another smile on Him, their heart beat and more, Beloved Swami.
Adoring Bhagawan, an en mass recitaton of Sri Sathya Sai Ashtothara Shata Namavali followed next.
Addressing the august assembly, Sri Karthik Ramesh, MBA 2005-07, spoke next with infused energy, delivering a 'whirlwind 'speech, spelling out what real 'Prema Bundham' is.
Prema Bandham has no limits or boundaries, said the speaker narrating how his otherwise atheist father reached the Lotus Feet, as confirmed by Bhagawan, after having three cancer-cancellations at Bhagawan's Grace.
Commencing with his inception story into the 'Sai-fold' in 2000 at Brindavan in Bhagawan's inimitable style, Karthik spoke of his MBA admission in Prasanthi Nilayam campus, credited purely to Bhagawan's 'Grace Mark'. Presenting a cascade of experiences with Bhagawan at different levels, the speaker commented on the greatest achievement of his life, that being 'His Student', narrating how, stage-by-stage, Bhagawan had moulded him with personal care, blessings to be a grateful recipient of 'Prema Bandham'.
A real Sai student is the one who engages in the unity of seva, Divinity of sadhana to attain realisation, as Sai stands for 'See Always Inside', purport being Atma Vidya, echoed the speaker. Karthik Ramesh is currently India Head, Stanchart Bank, Open Banking Innovation Lab.
A logo on the occasion of ensuing 95th 'BirthDay' of Bhagawan was released next, followed by a short 30-second video on the theme 'Samastha Lokah Sukhino Bhavantu' that being the Prasanthi Nilayam motto.
The venue Sai Kulwant Hall was colourfully decked up for the special occasion, welcoming The New.
Antha Premamayam, it is all-pervading Love all over, echoes Bhagawan always. We welcome You Oh! 2020, come and shine that priceless grace and blessing, blessing of Love That Conquers, in absolute abundance…and the ultimate blessing of Bhagawan's True Truth.
Bhajans next ended with Mangala Arathi offering to Bhagawan.
Samastha Lokah Sukhino Bhavantu
View Event