Prasanthi Nilayam endearingly embraces 23rd November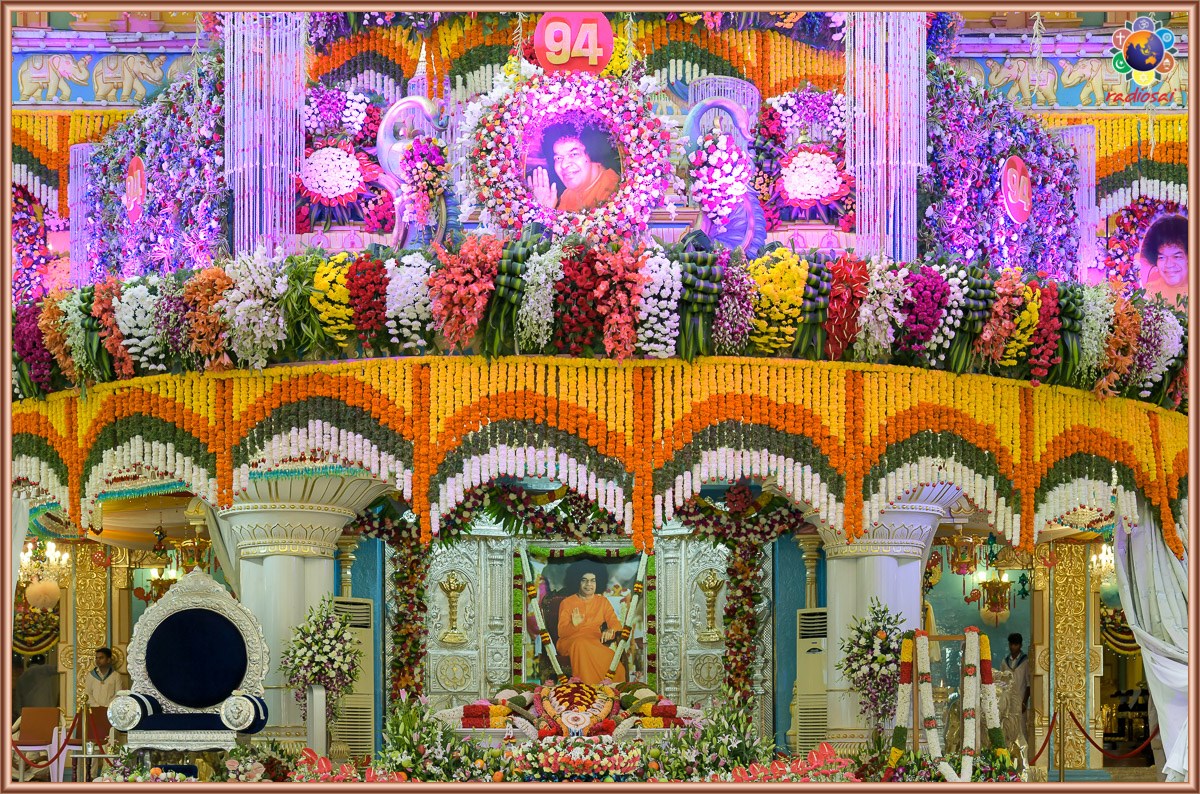 The Day of untold significance, of infinite proportions is back again. The dotted Day in the Prasanthi Calendar, 23rd November, the chosen for the Divine Advent of Sri Sathya Sai Baba.
Week long festivity that commenced with traditional Venu Gopala Swami Rathotsavam on November 18th set the tone for the festive week of celebrations and ever since Prasanthi has been packed with back to back programme schedules, both morning and evening sessions. Abuzz with infections festive mood, with frenzy of devotees filing in, doting colourful decorations distinctly heralding the beauty welcoming one and all, every nook and corner of Prasanthi Nilayam is reflecting the unmatched glory of The most astounding Divine Advent! At the venue in Sai Kulwant Hall a flood colours streamed aesthetically all over, expressively expressing the unmatched 'Divine' grandeur that is in exhibition.
The session commenced with full-throated Vedic chanting that continued for an hour. Sri Sathya Sai Institute of Higher Learning (SSSIHL) percussion band of Nadaswaram and Panchavadyam played brief stints before the melodic musical offering by the 'prasanthi music band'. Serenading The Supreme One they presented a bouquet of 8 numbers namely, 'Namo Sathya Sai Anandadayi…', 'Aao Sab Milkar Gaaye…', 'Jai Jai SaiRam…Jai Jai SaiRam…', 'Why Fear When I Am Here…', 'Tere Darbar Mein Kushian Hey…', 'Madhura Mohana Ghana Shyama Sundara Sai…' , 'O' Maa…O' Maa…', to conclude with Prasanthi's ever green 'Hum Ko TumSe Pyaar Kitna…'.
Commencing the next phase of proceedings Sri S. S. Naganand, Member Trustee, Sri Sathya Sai Central Trust (SSSCT) gave a brief presentation on the Trust and its all-round activities. He then briefed some of the statistical details of the medicare, educare and other missions happening at the behest of the Trust. Annual Report of the Trust was then placed at Bhagawan's Lotus Feet for blessing and subsequent release by the Chief Guest. Chief Guest for the occasion was Sri Nitin Gatkari, Hon'ble Union Minister for Road Transport & Highways of India and Shipping Ministry of Micro, Small and Medium Enterprises, Government of India.
This was followed by the launch of version 3.0 of the SSSCT website. He also made a mention of the change of guard at the SSSIHL with Dr. Sanjeevi B. Carani taking over as the new Vice Chancellor from the incumbent Prof. K. B. R. Varma.
Chief Guest's address followed next, delivered in Hindi. Referring to his earlier two visits to Bhagawan, Sri Gadkari expressed happiness over the wonderful work being carried out by the Sri Sathya Sai Central Trust, following Bhagawan's footsteps. Value based educational and family systems are the pillars of our country, Bharat, and Bhagawan with His teachings have encouraged us to do service in educational and health related areas, said the minister, expressing happiness that the work is being carried out successfully even after Bhagawan's physical passing on. Knowledge alone is not complete, life values and service are equally important. While following these values, we are fortunate to have Bhagawan's guidance and as a result world-over devotees are moving in His direction, observed the minister.
Narrating a fatal accident he along with his family had in 2004, the minister attributed the miraculous survival to his charity involvement and resultant grace from the great ones and the beneficiaries. In conclusion, the minister said, today I am seeking Bhagawan's blessings for strength to continue to serve the society.
Bhagawan in His Divine discourse next exhorted to develop Self-Confidence which in turn brings Self-Satisfaction that in turn gives Self-Realisation which finally takes one to Self-Sakshatkar, final merger. Stressing on the absolute need to develop love, Bhagawan asked the devotees to tread the path of faith, truth, bliss that takes one to God. There is nothing one can achieve without love, and with love everything is possible, exhorted Bhagawan.
Students with their handiwork greetings made a beeline to the Sanctum Sanctorum next, followed by various institutions with Birthday Cakes. SSSIHL brass band played a brief stint that was followed by bhajans. Mangala Arathi at 1140 hrs brought the curtains down for the glorious morning session.
Samastha Lokah Sukhino Bhavantu
View Event