Sri Sathya Sai National Tribal Development Programme launched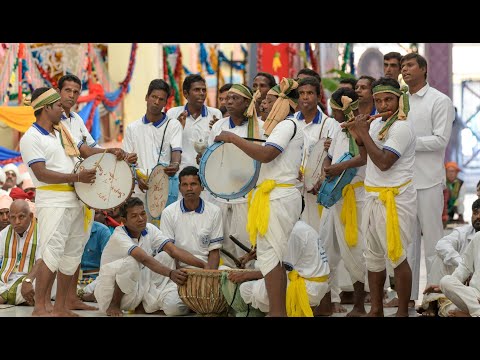 Aimed at reaching out, perhaps the most unsung yet purest of the folks of India, the tribal communities, Sri Sathya Sai Seva Organisations (SSSSO) today launched a new milestone programme, Sri Sathya Sai National Tribal Development Programme this morning in His immediate Divine OmniPresence in Prasanthi Nilayam.
The session commenced shortly after 0800 hrs with an all-India tribal procession participated by tribal communities from 12 states of India. Addressing the community and the devotees in general, Dr S. Ramu from The Nilgiris recounted some of the fondest memories the famed Nilgiri tribals had with Baba during the golden years of Baba's Ooty sojourn. Over 500 tribals from The Nilgiris were brought to Baba's immediate Divine Presence to Prasanthi Nilayam in 2005, only to receive His bounteous love, Who treated them as Divine Guests. Earlier, when a proposal for a mass marriage during the 75th birthday celebrations was put forth to Baba, Baba instantly diverted the project to the tribals of Nilgiris, resulting in 75 mass tribal marriage, recollected Dr Ramu.
A brochure on the occasion was released subsequently, by senior Trust and Organisational officials.
Speaking next, Sri Nimish Pandya, AIP of SSSSO, said that the seeds were sown by Baba long ago in His physical form, and the results are being manifested now, with Baba in His omnipresent form blessing every single task. With reference to the launch of the tribal development programme, commending on the greater cultural merits of the tribal communities pan India, the AIP openly admitted a change in perspective, that the SSSSO stands benefitted from its rich association with the tribals vide this developmental programme. Go to the tribals to see the unflinching devotion to Baba, exclaimed the speaker, narrating his personal experience with the tribals in Paderu, Telangana State. The 9 major areas of focus are infrastructure, sanitation, women and child health, education, agriculture, mass marriages, social and cultural development, skill and individual development. Dedicating the 5-year programme at Baba's Lotus Feet, praying for the all-round welfare of all tribal communities in India, the AIP hoped that in days to come every tribal districts of India becomes a Sathya Sai District with every tribal village becoming a Sathya Sai Samithi.
A series of tribal offerings representing various communities followed next, offered by the Thodas, Pothas, Badagas of The Nilgiris, dimsa dance by Vizag tribals, offering by tribals from Achampet, Telangana, Gond dance of Chhattisgarh, etc.
Sri Vijaya Krishnan, alumnus of SSSIHL, served as the master of ceremonies.
Bhajans continued and the session concluded with Mangala Arathi to Baba.
Samastha Lokah Sukhino Bhavantu
View Event