Presentation on 'Tihar' festivity of Sikkim…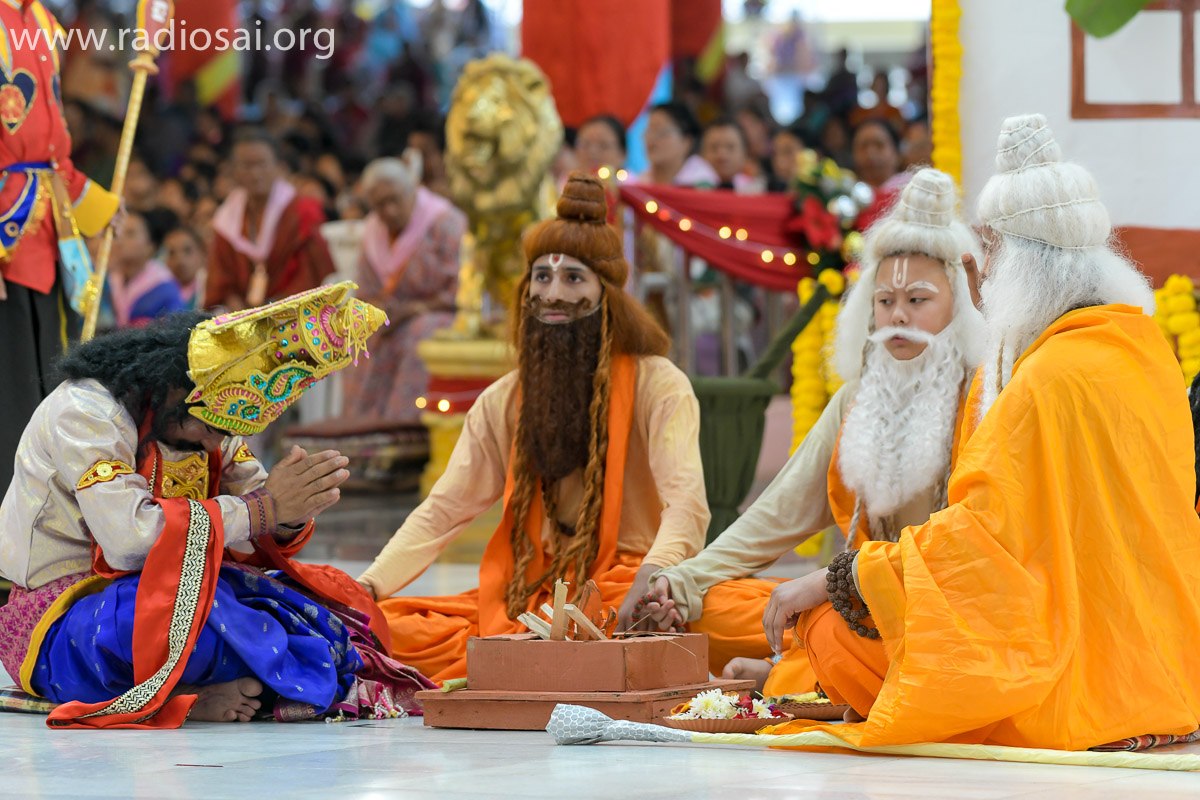 A contingent of devotees from the North East State of Sikkim has come on a 2-day Prasanthi Parthi Yatra to bask in the Divine OmniPresence of Bhagawan Sri Sathya Sai. Commencing their two-day celebrations this evening, Sai Youth of Sikkim presented a drama, 'Tihar', on the story of famed Tihar festival of the Nepalese community.
Tihar, also known as Deepavali and Yamapanchak, is a five-day-long Hindu festival celebrated primarily in Nepal and some parts of India such as Darjeeling, Kalimpong district, Sikkim, and Assam and even by Hindu community of Myanmar. Much similar to the legend of Kerala's famed Onam festivity, Tihar also involves Emperor Mahabali and Lord Vamana.
Lord Vishnu comes in the guise of Vamana and takes away 3-Feets of land, covering Earth and Heaven and finally, with nothing else in the vicinity, the ego of the Emperor, granting liberation and thus the festivity with gaiety and piety and holistic vibrations.
Tihar is the festival of lights for the folks of Sikkim and others, wherein people engage in singing and dancing with fireworks, feasting in style. The five-day grand festivity has five distinct forms of worship, that of crow, dog, cow, Govardhan Mountain and worship of brother, from day 1 to 5 respectively. The festivity begins on Trayodashi of Kartik Krishna Paksha and ends on the day of Bhai Tika in Dwitiya of Kartik Sukla Paksha every year.
Chyabrung, a dance festivity of the Rai and Limbu community of North East came as an intermission, offered by the Balvikas children from the State.
Earlier, State President of SSSSO – Sikkim, Sri Punam Pradhan enumerated the service activities in the State, aided by a video presentation. Quoting the scriptural wisdom 'Paropakarartham Idam Shareeram', the SP said, 'we are here for others and not for ourselves', airing their noble motto of selfless service as often professed by Bhagawan.
Bhajans next by the Sikkim devotees ended with Mangala Arathi to Bhagawan.
Samastha Lokah Sukhino Bhavantu
View Event