Heart Of Sikkim Serenades For Beloved Mother Sai…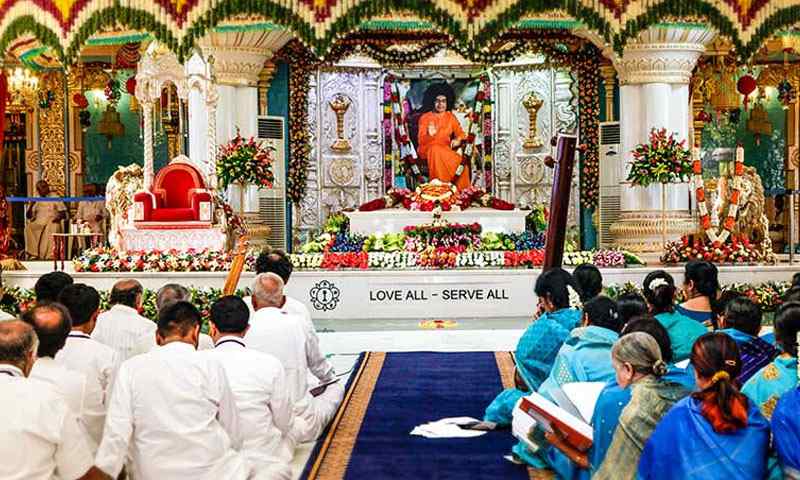 'Mother Sai! Our hearts are filled with the music of Your Love', thus resounded the collective voice of Sikkim this morning when the Sikkim contingent of Parthi Yatra devotees assembled at the Sanctum Sanctorum, offering a unique bouquet of musical notes in Prasanthi Nilayam. Coming with a mixed sacred culture of the Mighty Himalayas with unmatched, exceptional natural beauty, adding on with the dazzling beauty of wonderment of pristine waterfalls and the elegant Kanchenjunga, the State of Sikkim is basking in the glory of Beloved Mother Sai.
Continuing with their heart-felt offering this morning the Sai Youth contingent, both women and men, jointly offered a musical bouquet serenading The Master Supreme in a voice of unity, amity, gratitude and love.
Beginning with a captivating 'flute meditation', reminiscent of the gurgling water streams of Sikkim, as the stream of music flowed the grateful youth had a string of offerings that included ' Gananayakaya Ganadaivataya…', famed Ganesha offering, 'Sai Baba Bolo…'thematic of Sai being the Answer for all questions, 'Sai Ram Ke Dhun…' a piece of the heartbeat that sings for Mother Sai, 'Hey Pitaa Param Atma…' on Sai as The Ultimate Divine Father, 'Ram Bhajana Kara Man…', asking the mind to dwell in the Name of Lord Rama.
Oh! Dearest SaiMaa, we are here to uplift our consciousness so that even the most worldly duties that we perform, may we perform with the thought of God,' echoed the grateful hearts presenting their final offering on His Universal Teachings of 'God Is One, but Forms Are Many', singing the mellifluous piece of 'Sai Rama Krishna Rahman… Sai Geeta Veda Qaran…'.
Beautiful, meaningful, disciplined, heart-felt and devout commentary in English by the women-youth added to the beauty of the morning offering. Truly they echoed in a collective voice that, 'Our hearts are full and we know that You Are present in this room today.'
Bhajans continued and the session ended with Mangala Arathi to Bhagawan.
Samastha Lokah Sukhino Bhavantu
View Event