Multi-hued penultimate session of Bal Vikas Convention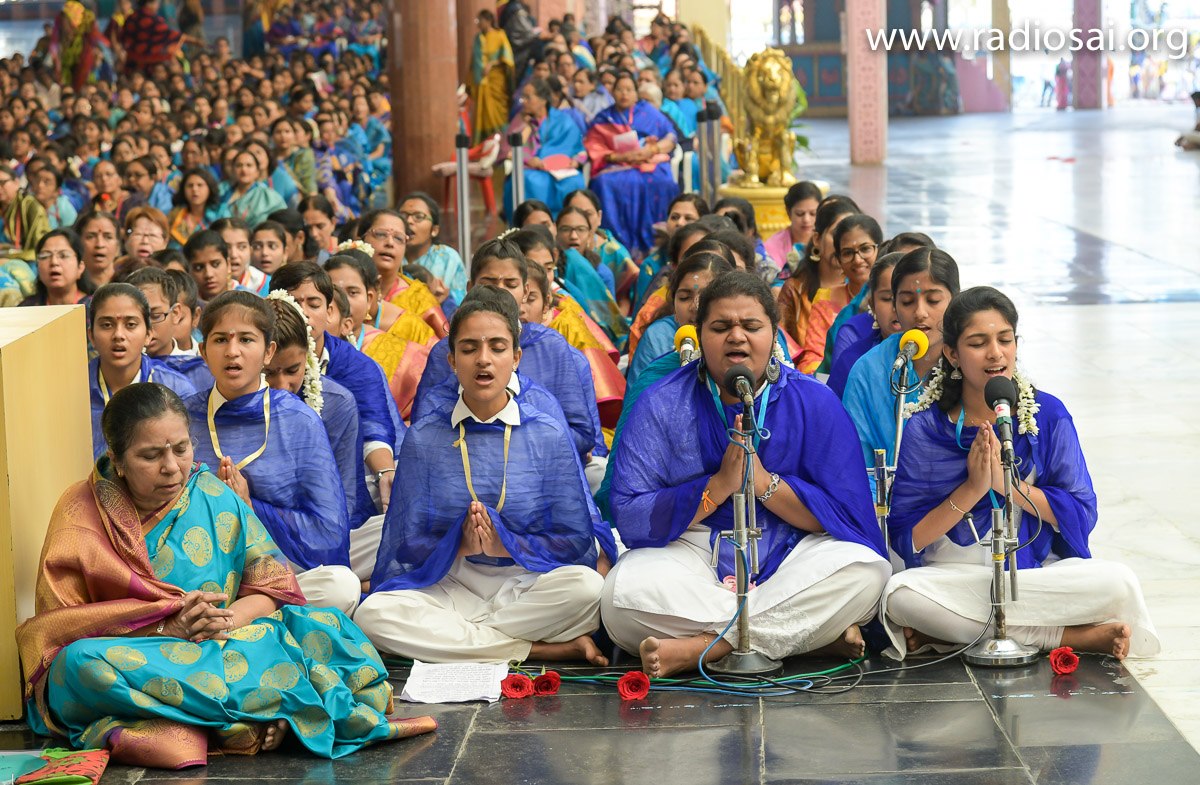 The 2-day 10th Annual pan-India SSSBV Convention is into its final day today. Presenting the penultimate session this morning at the Sai Kulwant Hall, the session commenced with a short speech by one of the alumna, Ms Anusha, from Nasik, Maharashtra who divulged as to how the movement helped her transforming into a more matured human being. 'Balvikas is not a mere classroom, but a charging point…' echoed the speaker narrating her personal experience.
An alumnus from Tamil Nadu, Sri Sai Giridhar followed suit, delivering a few power-packed words of love and gratitude for Bhagawan and His epochal movement. Having blessed with deep-rooted principles and values in his kitty, a boon from the Balvikas movement, the speaker sounded how confident he has been all through his life. Where gratitude remains as his core value, the speaker expressed greater hope that the collective Balvikas alumni through their actions will keep that smile on Swami's beautiful face, by following His Footsteps as an act of gratitude.
A musical by the Maharasthra contingent next featured twin pieces of poetic pearls of wisdom, presenting Bhajore Bhaiyya Ram Govind Hari… by St. Kabir and Eka Tari Gaate Gaate Geet Vithala Che…. an abhang by Yogesh Abhyankar. Gotipua dance of Odisha, a folklore offering to Lord Jagannath of Puri, came next, offered by SSSBV, Odisha with absolute precision. Bending their bodies to stunning level of flexibility, showcasing great acrobatic skills, the group of 6 boys presented an enthralling session, appeasing Lord Jagannath, donning the customary role of girls. Lighting and livening up the session, presenting the most beautiful north Indian culture, Punjab contingent of SSSBV next offered a boisterous Bhangra dance, jointly presented by SSSBV alumni and students of Sathya Sai Group of Institution at Badhani, Pathankot, Punjab.
A pen-drive release of Balvikas songs followed next, an offering by the West Bengal contingent.
Award of excellence ensued, felicitating Balvikas alumni for their distinguished multifarious achievements.
Dhruv Bamal, the 'mascot' for the year, from West Bengal, chirped a few words of 'innocent wisdom' responding to the AIP next, symbolic of the next generation Balvikas. 'Be ready to hand over the baton', reminded the AIP to all the Balvikas alumni, indicating the-would-be transition in future.
Master Pushpa Kamal Rai from West Bengal offered customary vote of thanks next.
Ms Saiesha Singh from Pune served as the Master of Ceremonies, effectively compering the show.
Bhajans by the Balvikas children continue and the session concluded with Mangala Arathi to Bhagawan.
Samastha Lokah Sukhino Bhavantu
View Event