From Mine To Thine, drama by Muddenahalli students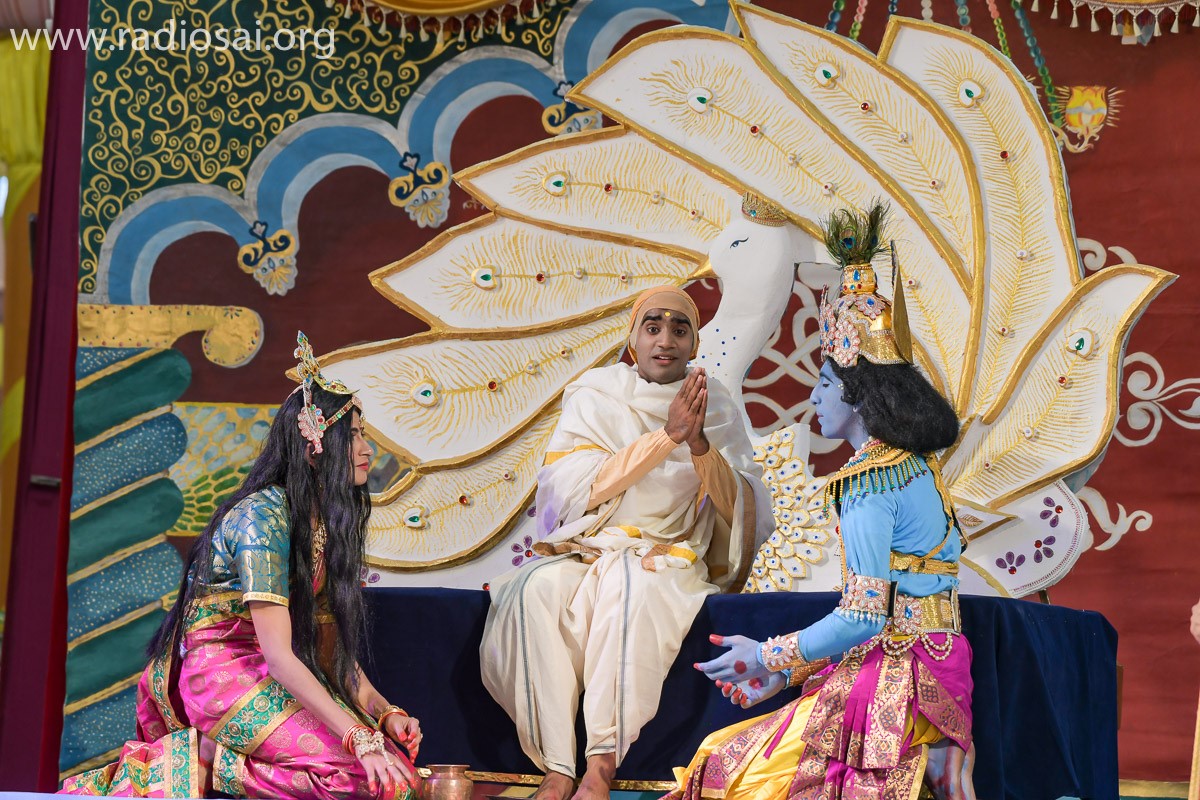 Exploring and exhibiting man's epochal earthly sojourn from humanity to Divinity, the students from the Muddenahalli campus of SSSIHL offered a drama entitled 'Mine To Thine' this penultimate evening of the SSSIHL's Annual Sports and Cultural Festival here in Prasanthi Nilayam.
Calling it Lord's longing desire, the presentation highlights on the need for the human hearts to transform from ego-consciousness to oneness, placing Him in the heart's altar.
The drama presents the protagonist, Janardhan, an incorrigibly truthful architect with no values for monetary benefits, yet full of passion for quality and perfection. He was tasked with constructing a new temple by the majesty, as ordained by The Lord vide a dream. Having taken up his maiden temple task Janardhan was hell-bent on making it a perfect affair. When an issue cropped up on the quality of the main idol being made, he was stern and resolute, even to the extent of facing the brunt of the majesty for crossing the time-frame, yet no compromise on the quality. When envious, jealous minds around him set a plot to foil his truthful effort and thus reputation, for a moment he slipped into delusion thinking that he was incapable of such a mammoth task, only to regain his right sense, thanks to the right intervention of a most alien friend in such a testing time. Sudhama, old time friend of Lord Krishna, appeared before him, only to enlighten him of his inferiority complex that was playing spoil sport, pulling him down.
Having decorated with the same 'sudhama' quality of love for Godhood with utmost purity and sincerity, Janardhan could muster the support of the majesty to fulfil the task ordained to perfection. But jealous minds were till around and The Lord seemed to have His special design for Janardhan.
Haunted by envious ego, Sharmaji and Raghupati, two of the subordinates of Janardhan, played fool with Janardhan's son, Vishnu, who subsequently turned against his father. Prompted by the evil designs, Vishnu did the worst, cracking the much-attended idol on the eve of the unveiling day, only to ensure sadistic pleasure.
The dire predicament that he was facing now brought Vishnu to senses, knowing that he was at fault in placing himself ahead of The Lord for Whom he was building the temple. He was at a loss, surrendering himself at His Feet.
When the time arrived for the temple inauguration and the unveiling of the statue, to everyone's utter surprise, Lord HimSelf emerged out of the Sanctum Sanctorum bailing His devotee out of trouble.
The Lord intervenes in human ways and lives only to take the 'mine' towards Him, for He always dwells in every single heart, was the parting message of the enlightening evening. He verily dwells in every single heart.
Bhajans next ended with Mangala Arathi to Bhagawan.
Samastha Lokah Sukhino Bhavantu
View Event