Sri Sathya Sai Cricket League Launched…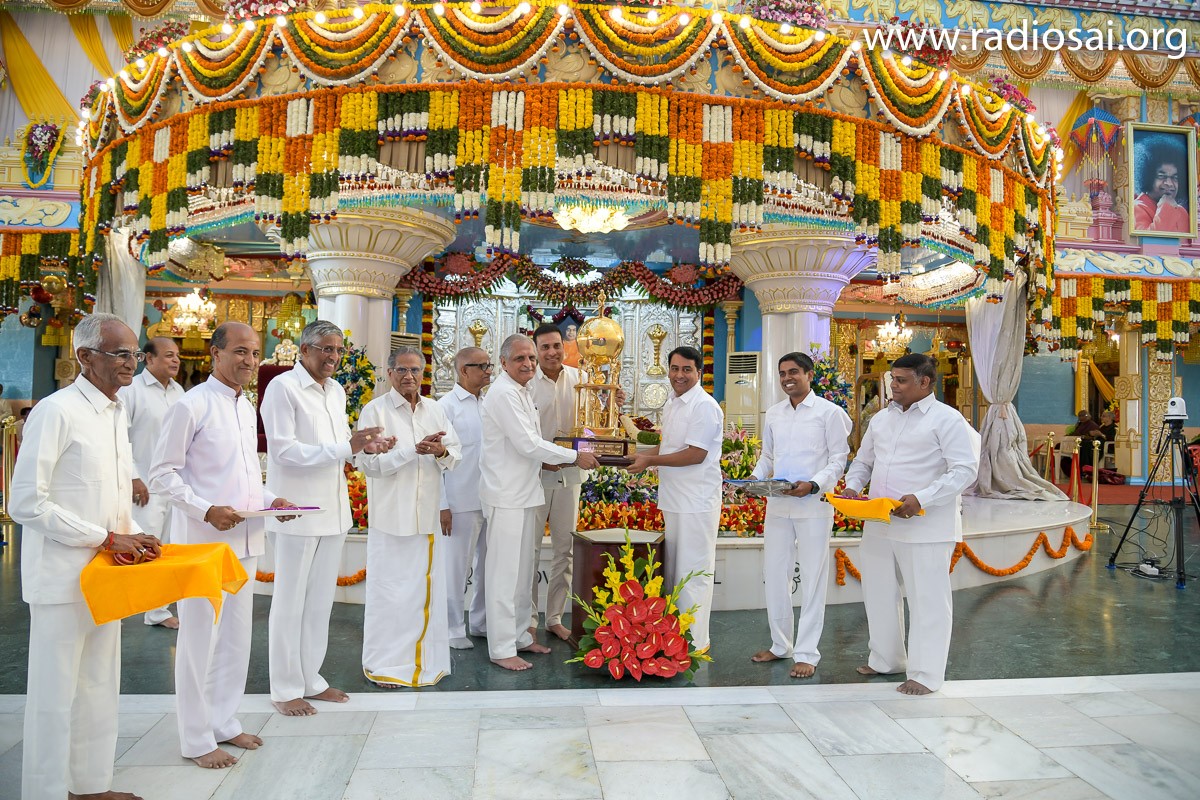 Holy Makara Sankranthi evening today witnessed the launch of a unique initiative by the Sri Sathya Sai Seva Organisations – India, Sri Sathya Sai National Cricket League, a 20-20 series for the youngsters of India. Announcing the launch this evening, Sri Nimish Pandya, President, SSSSO – India spoke of what entails the initiative, aimed at youngsters with commitment towards service, boosting individual and national character.
Set to play at samithi, district and zonal levels, the final of the series would be played at the Sri Sathya Sai Hill View Stadium on 23rd August 2020. Legendary Indian Cricketer Sri VVS Laxman along with Trust officials from Prasanthi Nilayam unveiled the trophy this evening at the Sanctum Sanctorum, the original trophy from the Sri Sathya Sai Unity Cup, 1997.
On Dec 30, 1997, India XI led by Sachin Tendulkar outplayed an International XI led by Arjuna Ranatunga at the Sri Sathya Sai Hill View Stadium, to lift the coveted Sri Sathya Sai Unity Cup from The Divine Hands. A host of international cricketing luminaries graced the occasion then that included Sunil Gavaskar, Gundappa Vishwanath, Clive Lloyd, Alvin Kallicharan, Zaheer Abbas, Hanif Mohammad, EAS Prasanna, apart from the playing eleven that included Sanath Jayasurya, Rahul Dravid, Shahid Afridi, Aravinda D'Silva, Anil Kumble, Muttaiah Muralitharan, etc.
Speaking on the occasion, VVS Laxman recalled the many blessed interactions he had with Bhagawan, started ahead of the 1997 Unity Cup. Laxman has always been 'very very special' for Bhagawan, Who had blessed him to be a grand success, at a time, when he was not even a regular in the Indian dressing room. Through sports build your character, advised Bhagawan, recalled Laxman, identifying Bhagawan's simple yet profound 'specific' advice to follow two of His famed dictums, Love All Serve All, Help Ever Hurt Never.
Expressing gratitude to Bhagawan and the organising committee, Laxman had an parting advice to the young future generation, to dream big. 'If i can do, you can also do it', said Laxman in an inspiring tone.
Brochure and playing rules and regulations for the league was also released during the occasion.
Offering the final presentation of the Annual Sports & Cultural Festivity, students from the Prasanthi Nilayam campus enacted a drama titled 'Sarvam Krishnamayam' in the waning twilight, lighting up the hall with the dazzling beauty of Lord Krishna tale.
Bhajans next ended with Mangala Arathi to Bhagawan.
Samastha Lokah Sukhino Bhavantu
View Event