Christmas Eve In Prasanthi Nilayam…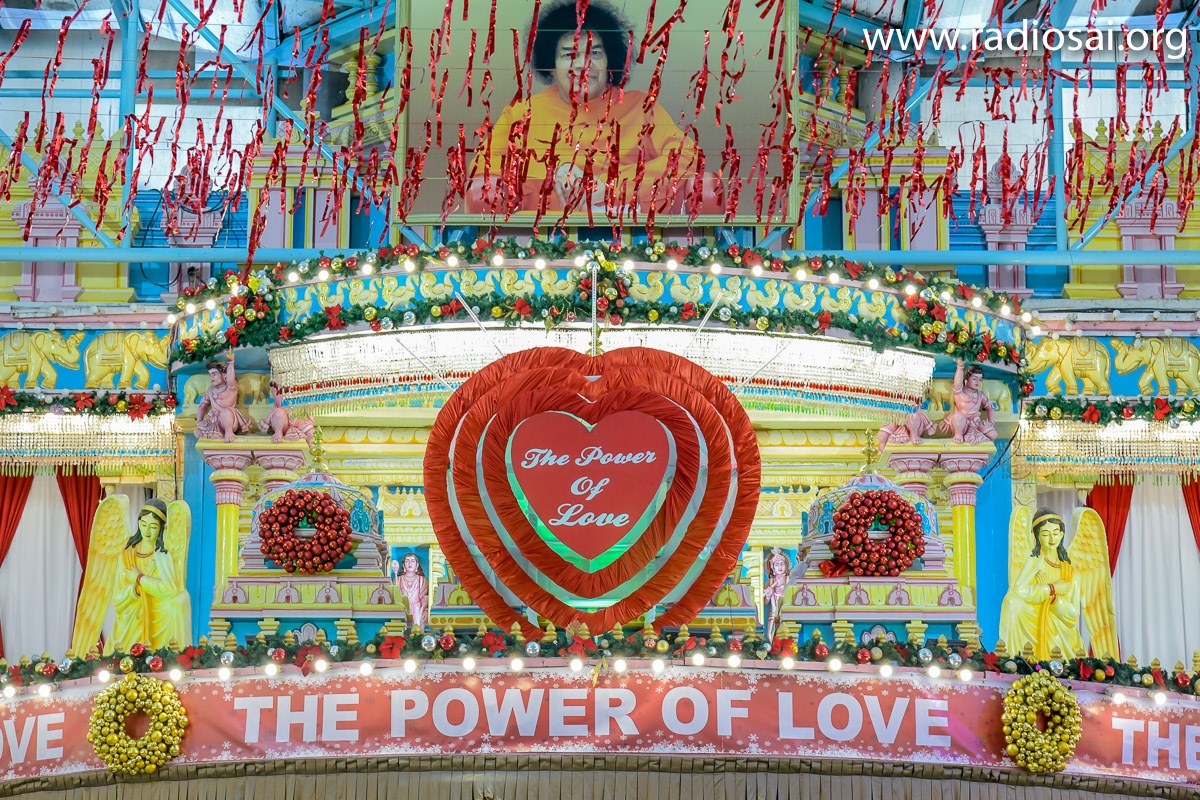 Go, tell it on the mountain that Jesus Christ is born, thus pronounced the International Adult Choir this evening commencing the holy Christmas celebrations in Prasanthi Nilayam.
Yes, holiest of the holies, Christmas is back again. The mass 'festive' appeal of Christmas earns a unique distinction in Prasanthi Nilayam every winter, as here, in The House Of The Supreme Lord, the festivity distinctly turns out to be a blissful celebration of the Truth Of Oneness, the Truth that Jesus proclaimed to the world at large. Driven by the spirit of Sanathana Dharma, the Eternal Religion, Christmas in Prasanthi always begins in typical Indian fashion, with 3 Aumkars, only to evolve to gentle 'Western'.
On the holy eve today, 315 choristers from over 35 'United Nations' joined in a 'United Voice' presenting International Adult Choir at the Sanctum Sanctorum in Prasanthi Nilayam. The theme for the year is 'The Power Of Love'.
The programme in this beautiful Christmas Eve commenced with the lighting of the Christmas Candle at the Sanctum Sanctorum, done by Mr Jan Floris, International Christmas Committee Coordinator, SSIO along with his predecessors Mr Tom Lehoy and John Behner. A pause of stillness followed, and in the stillness of silence was His Presence, as the organizers queued up, presenting the programme at Bhagawan's Divine Lotus Feet.
Mr. John Behner from the US introduced the ensuing session and the International Adult Choir followed next.
Sitting upfront, facing the Sanctum Sanctorum, an all white-clad-team of men and women choristers numbering 315 presented an-hour long choir, offering 18 hymns – a bouquet of carols, devotional and prayers, serenading 'The Divine Father-Son duo'. Leading from the front, Dr (Ms) Tanja Golddberg from the UK 'danced her heart out', conduction the choir to perfection, ably supported by a team of musicians and choristers.
Beginning with 3 Omkars and a 'Ganesh Vandana' singing Sri Ganesha Pancharatna Strotram, some of the numbers for the evening were, 'Go Tell It On The Mountain…', 'Sai Will Make A Way…', 'O Holy Night/Silent Night…', 'Holy, Jolly Christmas…', 'Hallelujah To The Lord…' to name a few. The 'adult choir' has been practising with passion and devotion, dedication and determination for the past over 10 days, perfecting the art for the D-day.
Continuous round of applause greeted the choristers, rewarding their spirited 'display'.
The venue and the entire Prasanthi precincts bore thematic, colourful decorations reflecting the festive spirit.
Bhajans continued and Mangala Arathi at 1840hrs marked the end of the eve's proceedings.
Samastha Lokah Sukhino Bhavantu
View Event