Showcasing Chhattisgarh's rich cultural heritage…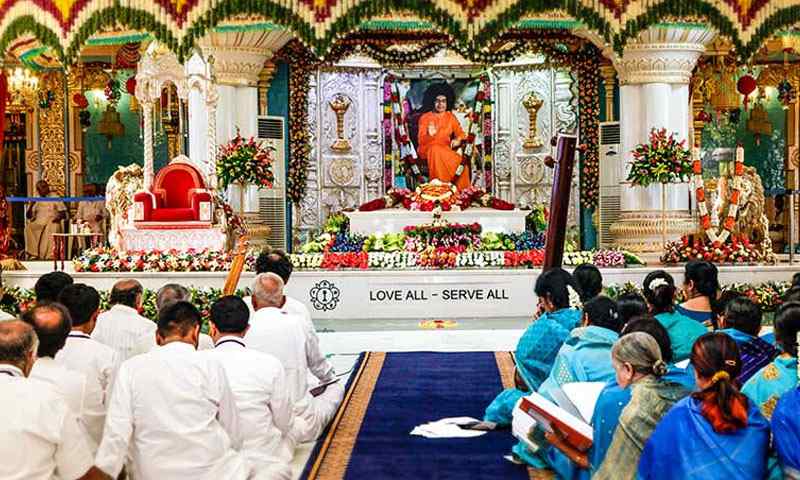 The State of Chhattisgarh, into the second day of its Parthi Yatra, presented twin cultural programmes this evening at the Sanctum Sanctorum in Prasanthi Nilayam. The first offering was an exhilarating Panthi Nritya, dance of devotion of the Satnami tribe community, propitiating their revered Guru Ghasidas. The dance form involves various symbolic mudras, dancing in trance to the tune of folklore music, meaningful of attaining higher consciousness.
A riveting session of Panthi Nritya ensued, with men in group danced in tandem showcasing acrobatic skills. It was during the 94th Birthday occasion of Bhagawan that the SSSSO – India has launched a National Tribal Development Programme for uplifting the tribal folks of India. The dance form this evening was originally directed by famed Panthi Dancer late Sri Devdas Banjare.
Devotees from Kariya Sathya Samithi then presented a folk dance offering, an amalgamation of various folkdances of the State. The session was absolutely inciting, with every heart present beat in tune with the folklore music. Truly, Bharat is replete with abundant cultural treasure and Prasanthi Nilayam ever welcomes traditions worldwide with an open heart, embracing them serving a pointer towards the highest human goal, of attaining supreme consciousness.
Samastha Lokah Sukhino Bhavantu
View Event