Chhattisgarh Parthi Yatra – Day 1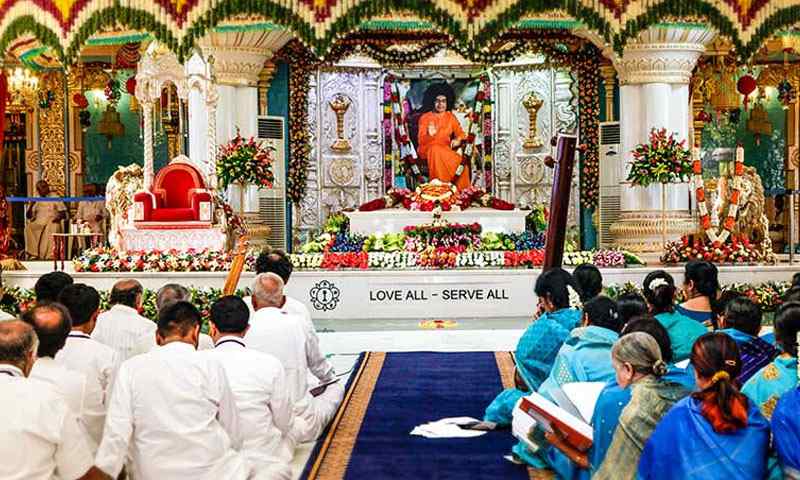 Holy Christmas week is here and as Prasanthi is abuzz with the ensuing celebrations, a Parthi Yatra contingent of over 1200 devotees from the Central Indian State of Chhattisgarh is on a 2-day Parthi Yatra to Prasanthi Nilayam. The State contingent is scheduled to offer twin back to back evening sessions on 21 st and 22nd of December, at the Sanctum Sanctorum.
First evening session today commenced with a speech by the President, SSSSO – Chhattisgarh, Sri Umesh Dang, an alumnus of Sathya Sai University, who spoke in Hindi. Commenting on the first year activity by the State unit of SSSSO, that had its inception during Guru Purnima 2018, the State President affirmed that the Sri Sathya Sai Seva Organisation is a spiritual organisation and not an NGO that demands work, but promotes Seva or Service, projecting Bhagawan upfront. He then briefly narrated various service activities launched state-wise, aimed at transforming hearts-many.
The session next featured a devotional musical by famed spiritual vocalist Padma Shri Dr. Bharti Bandhu offering a bouquet of devotionals. Specialised in Sufi-styled devotionals, Bharati Bandhu commenced the session with a heartfelt expression of gratitude saying, 'Baba has accepted many years of penance', that finally made him to be in His Presence. He had four distinct pieces this evening, namely, 'Mann Lago Mero Yaar Fakiri Mein…', 'Dheere Dheere Hakom Mere SaiRam Ghati Wale…', both Kabir Bhajans, 'Mai Re Maino Govind Bol…', a Meera Bhajan, 'Sai Laagi Lagan…' all sung with inciting devotional fervour. For the 1200 strong Chattisgarshis and for the devotees in general, the session turned out to be a 'SaiLent' reminder of passionate devotion, surrendering at The Master turning away distractions many. Dr. Bharti was accompanied by a host of talented 'family' musicians making it a collective devotional treat.
Bhajans continued and the session concluded with Mangala Arathi to Bhagawan.
Samastha Lokah Sukhino Bhavantu
View Event