94th 'Birthday' celebrations commence in Prasanthi Nilayam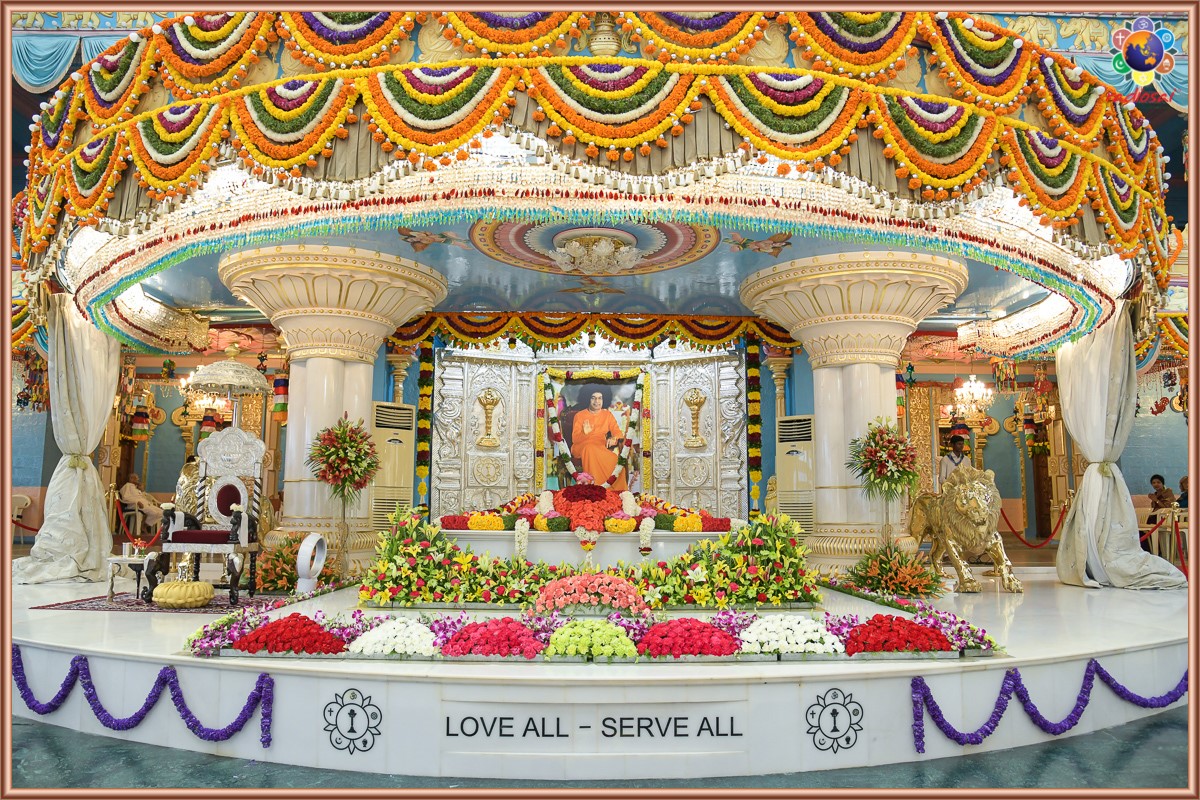 Come November, Prasanthi Nilayam turns magically colourful, painting herself multi-hued, celebrating the most spectacular Divine Advent, The Advent Of Lord Supreme, Sri Sathya Sai.
Week-long 'Birthday' celebrations commenced this 18th November morning on a very auspicious note, with the offering of holy Sathyanarayana Puja to Beloved Sri Sathya Sai Baba. 'His Story' speaks of the Sathyanarayana Vratam and Puja conducted by His pious grandmother, 'resulting which' The Lord made His epochal Advent on the 23rd day of November 1926. Sathyanarayana Puja is a traditional religious worshipful offering to Lord Maha Vishnu.
Commencing the proceedings this morning, Lord Sri Ramachandra and His Divine Consort Mother Sita along with Lord Venugopala Swami arrived in resplendent grandeur in a palanquin procession, adorning the makeshift podium at the Sanctum Sanctorum in Sai Kulwant hall. Flanked on both sides by Lord Sri Ramachandra and Venugopala Swami, the Vratam next was offered to Sri Sathya Sai Baba as Lord Maha Vishnu. Rituals followed by chanting of Sri Sathya Sai Ashtothara Shata Namavali continued flowing on to the holy parayana (recitation) of His sacrosanct Story, Sri Sathya Sai Katha. The narration in Sanskrit was accompanied by English translation of the narrative.
Post the Katha recitation, Naivedyam (offering) followed by series of Arathis were offered. Karpura Maha Mangala Arathi marked the end of the Sathyanarayana Puja.
The final phase of the morning function next featured Prasanthi Nilayam's traditional Venugopala Swami Rathotsavam, Chariot Festival, carrying the Divine Couple Sita Ramachandra along with Lord Venugopala Swami in a palanquin procession leading to the Patha Mandiram, Peddavenkama Raju Kalyana Mandapam, outside the Prasanthi precincts. Throng of devotees gathered on both sides of the road watching the reverential procession. Colourful artistry coupled with devotional fervour by the village folks made it a sheer feast for the huge turn out of devotees. Characters from the mythical lore and meaningful caricatures were aplenty escorting the procession.
As a customary practice over the years, the Divine Couple comes back in a return procession in the morning, while Lord Venugopala Swami returns at night, after blessing the entire village. Upon reaching the Patha Mandiram, Mangala Arathi was offered to the 'Divine Guests' , following which the 'retreat' began. As the Divine Couple returned to the Mandir a final Mangala Arathi was offered to Baba marking the end of the morning proceedings.
The morning glory was undoubtedly 'His Story', The Story that has no parallels, played out in His Own 'Puttaparthi', the tiny old-fashioned village of yester years, gradually turned into a global spiritual hub enhancing rightful evolution.
With the commencement of the celebrations today, Prasanthi Nilayam will be hosting a string of programmes that include the Ladies' Day, Annual Convocation of SSSIHL, etc. Marking the festive occasion, Maha Anna Prasadam, both lunch and dinner, will be served to devotees from today until the 'Birthday', 23rd November.
Samastha Lokah Sukhino Bhavantu
View Event