By T. Ravi Kumar
Dr. T. Ravi Kumar joined the erstwhile Sri Sathya Sai College at Brindavan (Bangalore) as a student for his intermediate course in the year 1974. He continued this with his Bachelors in Science in the same college. After he completed his Masters in Science (Chemistry), he joined the Sri Sathya Sai College as a faculty member in 1981. Later, he was awarded Doctor of Philosophy in Chemistry from the Sri Sathya Sai University in 1990. Currently, he is a Reader in the Department of Chemistry in the Brindavan campus of the same university. Additionally, he is a talented speaker and a keen student of Sri Sathya Sai literature.
The saddest day and the happiest day in my life fell on the same day - September 15, 1963. I was only 4 ½ years old then, and my mother had passed away that day. In the evening, as her body was being taken away for cremation, my cousin, who was slightly older than me, whispered into my ears that my mother would be taken in a procession. That somehow made me a lot happier as I imagined that it would be like the temple procession. Every image that my little mind could evoke of that religious parade was one of joy and gaiety.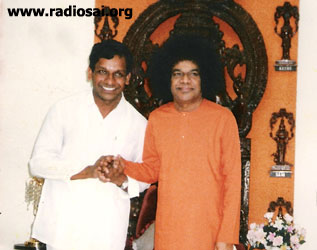 But when my cousin said that "… she will not return" I was plunged in grief. All attempts to soothe me failed, and so I was taken across the street to my aunt's house to keep me distracted. This aunt of mine was a devotee of Swami, and so there was a nice photo of Baba in the front room of the house. Looking at it, I asked her who He was.
And she told me: "This is God. Pray to Swami and He will protect you". Little did I realize then that the Divine mother's compassionate eyes had fallen on me, at a time when my physical mother's eyes had closed. And from that instant, I can say, my life has never been the same again.
It was in the year 1968 that my father was cured of cancer by Swami by just uttering "Your cancer is cancelled". Father lived for 38 years after that, and died of old age a couple of years ago! He was active till his last breath.
My family and I had always thought that it was only in 1968, after this miraculous curing of my father's cancer, that we had the good fortune of being drawn to the lotus feet of Bhagavan Baba. But the sweet Lord was soon to remove our misconception!
One day, when I had the blessing of speaking in His Presence, I mentioned about how my family and I had come under Swami's fold. But the all-knowing Lord corrected me by saying, "Not 1968 - 1963".
Swami went on to mention "Do you remember the day your mother died? Did you not ask your aunt, seeing My photo 'who is this, aunty?' From that day onwards, I have been looking after you". And what an exciting journey it has been with Sai Maa to guide me! Swami has been a mother, nay much more than a mother to me!
Teenage Adventures
At the time it was made known that my father was suffering from cancer, our lives went through quite a few twists and turns. Since he was not expected to survive the cancer ailment, on returning to office after his trip to Puttaparthi, he found many of his colleagues, who were quite junior to him, had been promoted. This meant my father had to work extra hard to make up for lost time and opportunity.
At that time, I was studying in high school and fell into bad company. The school I studied in had the distinction of having three cinema theatres in front of it, and we – my friends and I - used to spend our afternoons in the cinema theatre watching movies and whiling away time. In fact, we would see as many movies as there were days in a week - we would even go for a morning show to make up for not seeing one on Sundays, which was a school holiday!
From 'Good Boy' to God's Boy
One Sunday, my family and I went to Brindavan (Baba's ashram in Bangalore) for Swami's darshan, and Baba picked us for an interview. Now, normally everyone looks forward for this blessing. You only need to see the joy on the faces of the devotees thus selected to understand what it means to them.
However, as we went to the interview room, I was filled with mixed feelings. There was a slight panic somewhere within my heart along with the joy that we had secured the coveted interview. As Swami returned from the darshan, He passed us and patting me on my cheeks, said "Good boy".
Now, anyone who gets this remark, even once in his life, would feel that the purpose of life has been achieved, and would be excited and thrilled. But, believe me, it was nothing compared to the bliss I felt. The reason for this was two fold: on the one hand, Swami had 'certified' that I was a good boy and I could wear this on my sleeve. But more importantly, on the other hand, it was also a feeling of tremendous relief as it confirmed that even Swami was not aware of what I was up to!
However, the very moment this thought passed me, Swami looked at my father and enquired about the other friends who had accompanied him. On being told that they were on the grounds outside, Swami sent him to fetch them.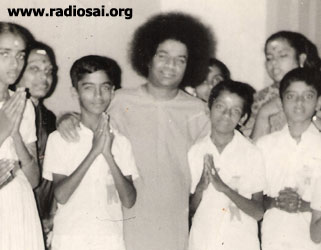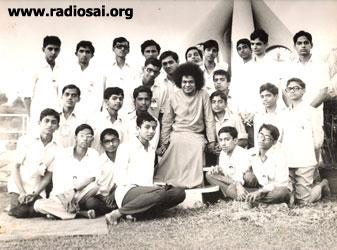 He then turned towards me and with a sweet smile, again said, "Good boy". I felt a glow within for a millisecond maybe, till this assertion became a question. "Good boy?" I tried to look as innocent as good boys do, but the questions followed: "Where were you yesterday at 2.30 in the afternoon?" Trying to look as pan-faced as I could, I answered confidently, "Swami, yesterday was Saturday. I must have been in the classroom…"
Swami quipped back saying, "That's right, you should have been…. But where were you?" (I realized that the questions were becoming tougher and decided to remain silent). Swami continued, "Shall I tell you? You were sitting in the third row from the last in Ajanta theatre with your friends G and P on either side of you watching the film Katti patang" (a Hindi movie; the title means "a runaway kite").
That was a precise description of my life till then! Swami's voice trailed off, when from the corner of my eye I noticed that my father was coming with his friends. I shuddered realizing that it would be a red letter day in more than one way. Swami might choose to expose me within a second's time and my father would punish me… my father strongly believed in the theory 'do not spare the rod and spoil the child'. But what followed next, transformed me inside out! Instead of revealing it all to my father, Sai Maa, with the most loving smile, said, "He is a good boy. I was advising him to keep good company".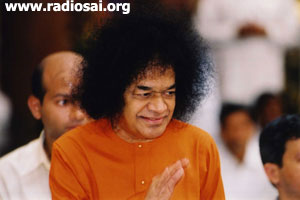 I was moved beyond words can express. I asked myself, "Is there anyone in this world who can be and is so kind, in spite of knowing everything about you? Who could have loved me and helped as much, despite my many shortcomings?"
I reasoned that Swami could have used this incident to demonstrate to my father and the others His omniscience, but chose to save me instead. From that moment, I decided to love this Mother with all my heart and serve Her lotus feet all my life!

This incident, truly, marked a new beginning in my life; I turned a new leaf. But what made it even better was when, after my schooling, Swami gave me the priceless privilege of being selected for the Sri Sathya Sai College for my intermediate class (XI and XII grade).
This meant that I could enjoy Swami's proximity, and could grow up in the Divine Presence. That was in the year 1974. But now, when I look back at the tapestry of my life, I can see how Swami has so intricately and lovingly woven it with threads of gold.
Growing Up, Literally, with the Lord
Being in the junior most class, and that too the shortest, did not do much to boost my self-confidence. I secretly yearned to add a couple of inches to my height. One morning, in my first year, standing in front of the porch in Brindavan, Swami said, "All short boys come to the front". I was surprised to see that there were about 8 of us!
Swami called the warden and instructed him to give us all a 'medicine' for growing tall! He handed over a box and instructed that it be given to us with hot milk in the morning everyday. The warden marched us to his office, and as an additional precaution noted down our heights. The next morning, when we were given the 'medicine' we were delighted to find that it was very tasty and sweet. How many times have we heard of a 'sweet medicine'? But when the dispenser is the Divine Mother, how else would it be?
After fifteen days the 'medicine' was fully consumed. The warden went to Swami for the next 'dose'. Swami just said, "There is no need. Measure their heights and see for yourself". And of course all of us had grown taller. The evasive couple of inches had been added! Realization dawned on me that there was nothing too small to escape Swami's attention, and nothing too big that He could not bless us with.
The Overpowering Sai Shakthi
It was a few days after the 70th birthday celebrations in the year 1995. I was sitting in the first line in the Bhajan Hall. Swami had called a group of devotees and was inside the interview room.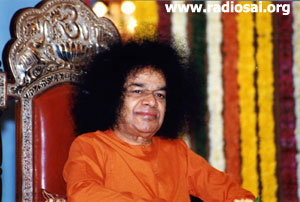 I was reading an English translation of the Tamil classic Periya Puranam which my sister had presented to me a few days ago. It was the life story of Thirugnana Sambandar - a child devotee of Lord Shiva. In that particular story, one day, when the father wants to go to the temple tank for a bath and swim, the child, who was barely aged a couple of years, insists on accompanying him.
A tantrum follows and the father is forced to take the child to the temple tank. The father goes for his bath, leaving the child on the tank bund. After sometime, the child starts crying…….
At this moment, Swami came out of the interview room and putting away the book I was reading, I looked at Him. Swami came into the Bhajan Hall, went along the aisle, and talked to a devotee at the end of the hall.
When He returned, He looked into my eyes and asked, "Tell me how many litres of milk do you need?" The first thought that came into my mind was that Swami had warned me to reduce my weight six months before, and in fact, had even listed the items to be avoided! Had I failed in the attempt to diet? Swami repeated the same question thrice, and being unable to understand the purport of the question I remained silent.
For sometime after Swami returned to the interview room, His question kept bothering me… 'Why did He ask me this question?', I pondered. When, even after intense effort, I could not understand what the question meant, I decided to shelve it for the present, consoling myself that Swami would reveal the true meaning at the appropriate time, and returned to reading the book from where I had left off: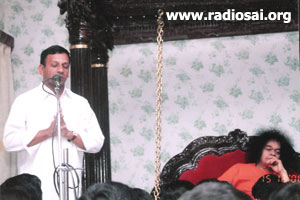 '….. the child starts crying. It was hungry. Seeing its plight, Shiva and Shakthi appear before the child and the Divine Mother gives the child a golden bowl of milk. When the father returned from the swim, seeing the drops of milk on the child's face, he questioned the child. The small child, who till then was barely lisping, sings out a poem describing the Divine couple.'
You can imagine my state. I put the book down, as tears of joy filled up my eyes. I was exhilarated when I realized that the very same Shiva and Shakthi had asked me the same question just a few moments ago!
I also realized that it was at the same spot (in the Bhajan Hall), that in 1963, on the Guru Poornima Day, Swami had declared that His was the incarnation of both Shiva and Shakthi, and cured Himself of the paralytic stroke.
To be a child and to enjoy the loving care of the Divine Mother is the greatest of experiences. Once in Trayee Brindavan, Swami was consoling a new student who had just joined that day, and was crying due to home sickness. He said, "I shall take very good care of you like your own mother… ask Ravi here, he knows".
There is a famous quote which says, 'the hand that rocks the cradle, rules the world' illustrating the supremacy of the mother's role in shaping the citizens of tomorrow. How lucky all of us are, as the 'Hand that rules the world, rocks our cradle!'