The Avatar's Attraction
This happened in the mid-forties. Once a lady, a friend of mine, from Bangalore wrote a letter to us stating that Bhagavan had come to their house, and asked me to come over for His darshan.
In that letter, she said, "We have read about Sri Ramakrishna Paramahansa and felt very sorry about our misfortune of not having had his darshan as he had already entered Samadhi years ago. However, the same person has reincarnated as Sri Sathya Sai Baba, hence, please come!"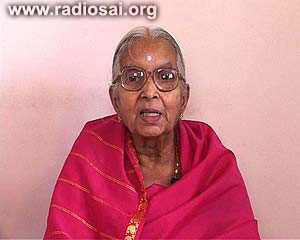 After receipt of that letter we proceeded from Mysore to Bangalore. We had His darshan in a devotee's house. Incidentally, the day happened to be Bhagavan's birthday. After the function, Bhagavan told everyone present to partake prasadam.
"I will then answer your questions," He said. The owner of the house instructed us, "Whomsoever Swami calls, alone should go to the corner room and ask their doubts and desires. Swami will give instructions and clear any doubts you may have."
It was our good fortune that Swami called us first. My mother instructed me that as we had already received one Mantra Upadesha (divine injunction to chant a particular name) from a guru we should only ask for the grace of the Lord. Swami, being omniscient, showed that He knew about this and told us,"You already do japam (chanting) and other spiritual activities, hence don't worry, I will look after you."
The Avatar's Attraction
Once when my mother was serving Him food, He lovingly asked her, &nbsp "You have already been given mantra upadesham, however, shall I initiate you again? If you are particular to receive it through Me, just add Sai before the mantra, that's all!"
My mother had only been initiated (given mantra upadesham) a year before she had her first darshan of Bhagavan. However, she was very devoted to Bhagavan and asked Him for anything and everything.
In those days there were not more than 35 devotees; in fact, that was a big figure then! A respectable lady, Mrs. Sakkamma, well-known as a coffee-estate owner in those days, used to come often from Bangalore (Kodugu District) and stay for about three to four days. She was the one who used to take upon herself the task of arranging everything for Bhagavan, be it His bath, water, food, or anything else.
At that time, it had just been constructed. My family stayed in an open space beside this old Mandir. As Brahmins (belonging to the priestly class), we cooked our own food, which was done in the open.
During her visit my mother respectfully asked Bhagavan, "Swami, will you accept the food that we cook and bring for You?" And to her abounding joy, Swami said, "Yes!" Since then, due to His grace, she was able to cook and serve Him food on many occasions.
"Will you accept mantra upadesham from Me?"
Once when my mother was serving Him food, He lovingly asked her,"You have already been given mantra upadesham, however, shall I initiate you again? If you are particular to receive it through Me, just add Sai before the mantra, that's all!"
My mother had only been initiated (given mantra upadesham) a year before she had her first darshan of Bhagavan. However, she was very devoted to Bhagavan and asked Him for anything and everything.
In those days there were not more than 35 devotees; in fact, that was a big figure then! A respectable lady, Mrs. Sakkamma, well-known as a coffee-estate owner in those days, used to come often from Bangalore (Kodugu District) and stay for about three to four days. She was the one who used to take upon herself the task of arranging everything for Bhagavan, be it His bath, water, food, or anything else.
The Magnificent Jyothi Darshan
One day, Swami blessed all of us in Puttaparthi by partaking meals in our house. Sakkamma, who was present then, asked Swami if she could return to Bangalore. Swami, however, did not grant her permission. But Sakkamma insisted that she had to leave. My mother also tried to dissuade her. Finally, Sakkamma boldly said, "If Swami shows His darshan in a miraculous way, only then will I stay back."
For those who are not aware, Bhagavan has stated that the first period of His divine life was characterized by leelas – the sports of the Lord. It was because this aspect was prominent then, and also because Sakamma adored and related to Swami as a young boy that she could at times take the liberty to make such demands.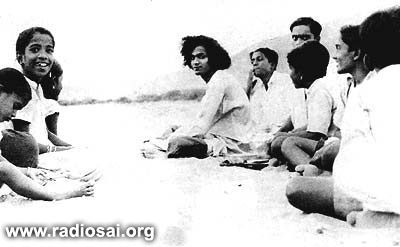 And Swami too was very ready to grant Sakamma's prayer in a spectacular way on that occasion.
The next evening He took all of us along with Him to the Chitravathi River, which was a copious flow during those days. At about 6.30 p.m., Swami suddenly told us all to follow Him, and He walked up a hillock and stood there.
He showed His empty hands and then asked us if we were all ready to see what followed. We waited with bated breath to see what would unfold… There, suddenly appeared a brilliant light, and in the middle of that sublime brilliance stood Swami!
All of us assembled there, at the foot of the hillock, saw this Divine spectacle and were dumbfounded in awe. A Divine aura had completely surrounded Swami as He stood there on the hillside. The light was a pulsating brightness, so dazzling that it was overwhelming. But at the same time, the luster was so soft and gentle, because of which we could withstand the purity of its luminescence.
And then, Swami slowly came down a few yards, but the effulgence continued to surround Him. When He further descended, the aura was still there around Him, undiminished. We were stunned and speechless. How can one describe that unprecedented event? We were just shocked with delight and overjoyed at the divine gift bestowed on us.
After this historic event, we all returned to the old Mandir and sang bhajans. At the end of this session, we offered Him arathi. Swami then told us the significance of the darshan He had bestowed on us just then. He explained that there are many types of devotees and everyone worships God in the form they like the most; the choice is totally up to them. Each one will become aware of the brilliance of the Divine in the form they worship and that is dear to them.
It is interesting to know that this very same miracle occurred when Jesus walked the earth as recorded in the gospel of Matthew:
After six days, Jesus took with him Peter, James and John, the brother of James, and led them up a high mountain by themselves. There, he was transfigured before them. His face shone like the Sun, and His clothes became as white as the light. Just then, there appeared before them Moses and Elijah, talking with Jesus.
Peter said to Jesus, "Lord, it is good for us to be here. If you wish, I will put up three shelters—one for you, one for Moses and one for Elijah."
While he was still speaking, a bright cloud enveloped them, and a voice from the cloud said, "This is my Son, whom I love; with him I am well pleased. Listen to him!"
When the disciples heard this, they fell facedown to the ground, terrified. But Jesus came and touched them. "Get up," he said. "Don't be afraid." When they looked up, they saw no one except Jesus.
(Gospel of Matthew, chapter 17, v1-8)
Worshipping the Lord's Lotus Feet
The old Mandir was built in the year 1945. During this period, the unique opportunities devotees had for divine conversation with Bhagavan were absolutely amazing; no one has enjoyed such opportunities later. Swami used to come and just sit with us and talk. There was not even a time limit then!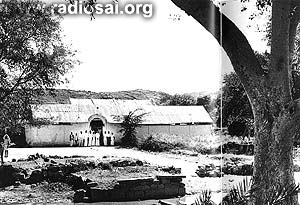 The old Mandir was only a small shed, and needless to say there wasn't ample space there. It was built by a devotee, Mr. Devaraj. The hall was shared by all, ladies on one side and men on the other. In fact, Bhagavan Himself used to sleep in the hall on the floor; there wasn't even a cot!
We were very fortunate to perform Pada Puja (worship of the feet) to Swami in the old Mandir; it was performed with devotional songs. During the puja, we were allowed to sing any song we liked.
"Pesara Pappu Kosamu Poena…. (I went to bring Moong Dal…)" is one of the songs we used to sing. Swami used to like Moong dal cooked and served in the meals those days. Mrs. Sundaramma, a devotee from Karnataka, used to sing that song beautifully.
During the puja, we used to spread a white cloth on the ground. Over that we placed castor oil and haldi (turmeric) powder. These two were then mixed and the paste applied to the soles of Swami's Feet. After gently pouring scented water (panneer) over His feet, we offered our salutations and touched His feet in reverence. Swami would leave the puja only after we all had taken padanamaskar. Of course, when He walked over the white cloth, His feet made impressions (Pada mudralu) on the cloth, and these became prized objects of devotion
Sometimes, we used to place a pad on the floor. When Swami stood over this, we poured scented water and washed His feet, and then, wiped them with a towel. After this, we applied turmeric powder and vermillion on His lotus feet. Finally, we placed a flower garland around His neck and sang bhajans. This is how we performed Pada Puja in those bygone years.
Dasara with the Divine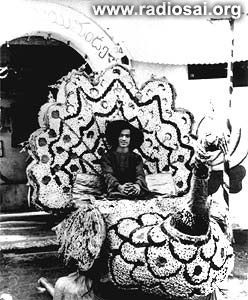 People of great social stature such as the Maharaja of Mysore and Basavaraj Urs used to visit Swami frequently those days. All these important people used to sit around Swami, who was just a young boy.
During Dassara and other such festivities, all of us got together, with great love and devotion, arrayed Swami in fine garments. We used to assemble elaborate carriages for Him such as the Swan Vahana (vehicle in the form of a swan) and Nandi Vahana (carrier in the shape of the sacred bull, Nandi).
Flower decorators from Bangalore often brought varieties of blossoms that were placed on these Vahanas and used as palanquin for Swami.
During Dassara, Swami used to visit the village in a different Vahana each day. The decoration for Swami was based on the Dasavatharam (ten incarnations of Lord Vishnu). Swami's Vahana was followed by a band and a Shehnai (folk music) party. And behind this was the concourse of devotees. Arathi was offered to Swami once the procession returned.
Then, coconuts too would be broken and we all offered salutations. The programme would conclude by 9.00 p.m. Again, by 2.00 a.m. we would gather around the Mandir. Residents from the hamlet used to attend all these festivities regularly without fail.
Interview Room on the Sands
Swami used to take us all to the Chitravati River every afternoon. We used to return to the old Mandir only by about 6.00 p.m. As the old Mandir did not have extra space, the bank of Chitravati was the interview room. Swami used to answer all our questions on the sands.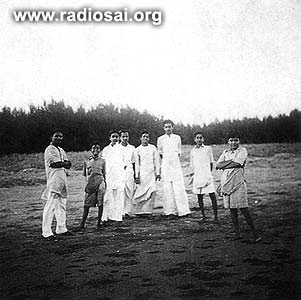 Those who had unfulfilled desires in their lives, such as not being able to have children or were troubled with material constraints, prayed to Bhagavan to bless them. He often materialised many idols of deities. He also used to create fruits and flowers, which He distributed to everyone around.
When the Lord Wills Abundance
On one occasion, He created an apple which He cut into small pieces and passed around to all of us. The wonder was that every devotee got a fair share of the same small apple! His will produced surplus (Akshayam) so that all could partake of the divine prasadam.
Another feature of the apple was the blemishless texture of its skin; it was absolutely smooth and shiny. When we asked Bhagavan about the wonderful quality of the apple skin, He replied that blemishes represented strife in life, which resulted in rebirth. To drive this lesson home, He had created such perfect apples.
One day, due to some reason, the fire in the kitchen was not lit. Swami, then, went inside this room, and taking a cloth, wiped all the cooking vessels thoroughly clean. He then placed lids on all of them and left the scene
At about noon, Swami told us to open the lids of the vessels. When we did that we were shocked to find a variety of cooked delicacies! We served this delicious food to all the devotees present, which was no small number. But the vessels never became empty! He had willed all the containers to remain full till all ate to their heart's content!
In those days there was never enough rice or paddy stock in the kitchen. However, none remained hungry; there was food for all and in abundance! It was a simple leela for Bhagavan to ensure this.
This Leela from Bhagavan, which by the way He repeated many times to assuage the needs of His devotees, can also be seen mirrored in the divine life of Lord Jesus as we read the Bible:
…the crowds followed him on foot from the towns. When Jesus landed and saw a large crowd, he had compassion on them and healed their sick.
As evening approached, the disciples came to him and said, "This is a remote place, and it's already getting late. Send the crowds away, so they can go to the villages and buy themselves some food."
Jesus replied, "They do not need to go away. You give them something to eat."
"We have here only five loaves of bread and two fish," they answered.
"Bring them here to me," he said. And he directed the people to sit down on the grass. Taking the five loaves and the two fish and looking up to heaven, he gave thanks and broke the loaves. Then he gave them to the disciples, and the disciples gave them to the people. They all ate and were satisfied, and the disciples picked up twelve basketfuls of broken pieces that were left over. The number of those who ate was about five thousand men, besides women and children.
(Gospel of Matthew, chapter 14, v13-21)
"Sing Bhajans wholeheartedly, that is enough"
In those days, my mother used to stay in the kitchen of the old Mandir to cook for Swami; that was a tiny room. Devotees used to come from all over the country at all hours of the day to see Bhagavan. Once a group of devotees of the popular Tamil saint, Sri Ramana Maharishi, came to see Bhagavan.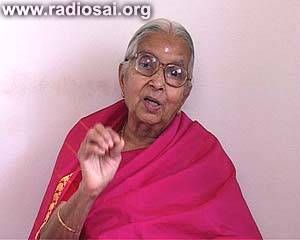 They had arrived at dusk, when the village was enveloped with darkness. Navigating down the road was a problem, and to compound the issue, they did not understand the local language, Telugu. However, one villager thought of my mother and directed the visitors to her as she knew Tamil.
They informed my mother that they had come all the way from Thiruvannamalai hearing that God had incarnated here. They had come to have His darshan, offer their prayers and perform puja to Him.
And then, they questioned her on the modalities of performing such a puja. She replied that there was no such worship necessary, and that devoted bhajans alone were enough.
When this group saw Bhagavan, He was very happy. Swami told them to stay with their guru (Sri Ramana Maharishi) and to sing bhajans with devotion and dedication.
That alone is enough to earn merit, He conveyed to them. Hearing this, my mother was ecstatic as Bhagavan had given the same upadesam (advice) to my father too.
Diesel Generator Runs on Water!
During those days, there were no street lights. The roads were dark and uninviting in the evenings. A couple of bulbs glowed powered by a diesel generator for which devotees procured the fuel.
One evening, during a celebration, when the procession was about to start, the bulbs failed to light up! At that time Swami was sitting in an old room at the rear of the old Mandir.
Devotees started complaining that there was no light. Hearing this, Swami asked for water in a bucket from the nearby well. He then directed them to pour the water into the generator tank. Wonder of wonders! The bulbs lit up and burned beautifully throwing bright light all around!
This amazed everybody, but maybe there were still a few doubting thomases. Swami again asked the devotees to fetch another bucketful of water and directed that it be poured into the generator – the bulbs continued to burn beautifully. Nobody had any doubts about His divinity that evening!
Bhagavan is Sakthi Swaroopini
Swami used to sit along with devotees and discuss with them various topics. Many came to Him for advice, which He offered with the greatest of concern. The number of devotees in the Mandir in those days often did not cross single digits; even ten people on normal days was a big number.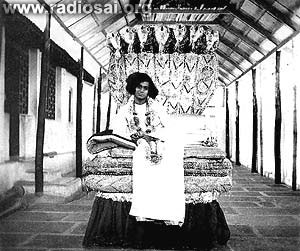 Everyday, turmeric powder and vermillion was placed on the deities who adorned the altar. Incense sticks and lamps were also lit, and all these duties were done in turns by the ladies staying in the Mandir.
One day, it was my mother's chance to decorate the idols and light the lamps. While she was busy doing this, Bhagavan was actually standing right behind her.
Swami made a few remarks expressing his apparent displeasure in the way the idols were being adorned. When my mother heard this, she immediately turned around and what did she see? In stead of Swami, it was the Divine Mother! The form of Sakthi Swaroopini!
She was decked in a red silk saree; Her face was shining turmeric powder and vermillion; beautiful gold jewelry adorned Her neck. What a divine blessing Swami has conferred on her! It was just heavenly. She often recounted this glorious darshan with great fervour.
In those cherished days, I was awed by the glory of Swami. We have not seen Lord Rama or Lord Krishna, but the present Avatar is living with us, amidst us! What a great opportunity!
From the mental diary of Mrs. Karunamba Ramamurthy
Celebrating Bhagavan's Birthday
In those days (in the 1940s), Bhagavan's birthday did not call for any major celebration. Instead we enjoyed more experiences with the Lord which we now cherish for all eternity. Elderly devotees used to apply the customary coconut oil on His head and we would garland Him with bright flowers while singing bhajans.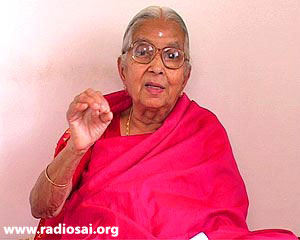 During one birthday, Swami refused everyone who came to garland Him. The ever playful Swami was enacting a divine drama. But He appeared serious all the same! The 20 or so devotees who had assembled returned with the garland still in their hands, rather downcast and perplexed. This was to have been the highlight of their year! Then they discussed how to attract the mysterious Lord to their side, and collectively requested Swami to partake meals with them.
Swami asked them to sit inside the Mandir and then surprised the group by serving water and food to everyone with His own hands! Needless to say, they were all moved and overjoyed after their initial disappointment.
Maybe Bhagavan was teaching them the lesson that God's creation is full of ups and downs – but be assured that when it seems as if things have gone awry, He will always wipe away our tears in an unexpected way!
There lived an old man named Kadirappa in the village who used to wash up all the utensils after devotees had partaken their meals. Generally, he ate the leftovers from these cooking vessels, and often, this comprised of just plain steamed rice, without any salt, or garnish, and was rather lacking in nutrition. Once, when this old man was eating silently sitting beside the well, Swami went into the kitchen and brought out all that my mother had personally cooked for Him.
This included boiled vegetables, curries, and chutney. Swami lovingly told the old man to eat all the other items and not just plain rice. It was such a sweet sight to behold. The Lord offering His own food to the man who washed the dishes! After giving him the food, Swami went up to my mother and asked her if she was upset. She replied, "Oh, Swami! You are God. How can I question what You do?"
This unique spirit of sacrifice seems unparalleled except in Swami's own life as we remember incidents from His childhood recorded in His biography, Sathyam Shivam Sundaram. Prof. Kasturi writes: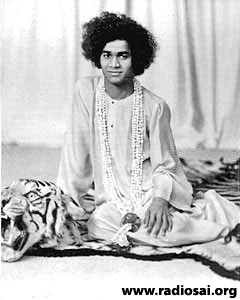 At the tender age of three and four, He showed that He had a heart that melted at human suffering. Whenever a beggar appeared at the door and raised his cry, Sathya left His play and rushed inside to force His sisters to hand out grain or food. The adults were naturally irritated by the endless procession of outstretched hands.
On one occasion, in order to put an end to what the elders thought was expensive and misplaced charity, the mother caught hold of Sathya, and with a finger raised in warning said, "Look here! You may give him food, but mind you, you will have to starve."
That did not daunt the child. He would run inside and bring out food to the hungry man at the door and later stay away from lunch or dinner himself. Nothing and no one could persuade Him to come for His food which was left untouched!
When Sathya began running about in the streets, He sought out the maimed, the blind, the decrepit, and the diseased, and led them by the hand to the doorstep of His parents. The sisters had to secure from the store or the kitchen some grain or food, and put it into the beggar's bowl while the Little Master looked on happily. – H2H Team
Pacifying the Turbulent Chitravathi
The Chitravati River, in the forties, was very different from what it is today, and its flood waters used to come up to the base of the old Mandir, often flooding the basement. One day, during such a flood, Swami asked my mother to offer turmeric and kumkum (vermillion) to the river. She brought these items on a bamboo mat, and Swami placed this on the water and gently shoved it away.
After this, with His feet, He slowly pushed at the lapping water as if He were sending her away. Lo! The waters receded peacefully at once! My mother stood there for some time enjoying this spectacle of the waters obeying Swami's command, and felt rather in awe of the power evident in the small body of the Lord.
Asking Swami for Riches, Materialistic and Spiritual
Formal divine discourses on festivals and events like we have now, were not the practice 50-60 years ago. It was always casual conversations, but they were actually ridden with deep meanings. Whenever devotees gathered, He used to join them and sit in their midst. Most people used to ask Him about solutions to their personal problems such as about money for their businesses and so on.
Once, after the River Chitravathi's floods had abated, we were seated around Swami. Almost everybody was busy asking Swami about their respective professions and their future. The topics raised were almost exclusively of a materialistic nature.
After a while Swami seemed as if He wished to finish the conversation and told all of them, "See, now I will go to the river and will build a big sand heap. On that mound I will place a stick. After it is complete, I'll whistle. When you hear my signal, close your eyes and pray for whatever you want. When your wishes are completed, go to the heap and dig in it. You will get whatever you want."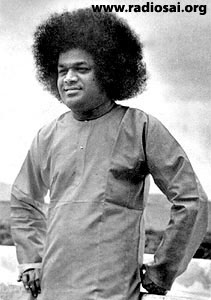 So saying, Swami went to the river accompanied by the group who were all agog at having their choicest desires soon fulfilled. After completing the heap and placing the stick on top Swami left at about 6.00 p.m. and returned to the Mandir.
An hour passed by, but there was no sign of the devotees returning. Swami then asked Krishnappa, His body's cousin brother, as to what happened to the group. "They have not turned up yet. Did a tiger attack them? Go see what has happened." So saying, He sent Krishnappa to the river bank.
When he reached the river, he saw a strange and comical sight - everybody was still furiously searching in the darkness. At odd intervals they thought they had found something and would start shouting "We got it! We have it!" When they lifted the object(s), to their dismay, they found only dried donkey dung, pebbles, and sand!
After some more time they realized the game was up, and dismally returned to the Mandir. On hearing what they all got, Swami laughed at their folly and told them, "Have you learned your lesson now? Don't be so greedy in the future! Whenever you are with Swami, don't ask for such cheap things."
Generally, Swami was the perfection of patience in dealing with our poor understanding. And often He came down to our level to play and establish kinship with us. But now and again, He felt He must teach us the hard way, lest we never move on from our petty desires. Of course, He would do so in a playful way that would give us all a belly laugh whenever we recalled those pranks.
Despite the fun and laughter, there is always a profound meaning in all the Avatar says or does. This was clearly demonstrated by the assurance that He gave even in His previous incarnation at Shirdi when He advised His devotees thus: "There will never be any dearth or scarcity, regarding food and clothes, in any devotees' homes. It is my special characteristic, that I always look to and provide for the welfare of those devotees, who worship Me whole-heartedly with their minds ever fixed on Me."
Lord Krishana has also said the same in the Gita:
"Therefore, strive not much for food and clothes. If you want anything, beg of the Lord, leave worldly honours, try to get Lord's grace and blessings, and be honoured in His Court. Do not be deluded by worldly honour…"
The Coconut of Great Wealth
I remember another one of these leelas which concerned a lady from South India who asked Bhagavan to grant her material riches. This time Swami gave her a coconut and told her to listen to His advice carefully. "Hear properly what I have to say. I have given you a coconut. Take it home and worship it every day. You will be given all the riches you want."
Needless to say, she was overjoyed. She received it and started her journey back home. On the way she sat at Penukonda railway station awaiting her train. She took the coconut and moved it with her hands. While doing so she heard a sound inside that seemed to emanate from the coconut. A doubt crept into her mind. Was Swami's gift genuine? Could a coconut really offer riches?
So thinking, she decided to break it open and look inside. As the coconut cracked open, a golden idol of Lakshmi sprang out and instantly disappeared! Grief stricken, she came back to Swami and told Him about her mistake of breaking the coconut; she requested Him to give her one more. Then, Swami told her, "You do not have faith in My words. Hence, return just as you came here."
Many such people came to Swami seeking such material wealth; very few were interested in spiritual riches.
Even during the Shirdi incarnation, there is an instance of a rich gentleman who had every worldly success in life and appeared to lack nothing, and therefore came to Baba seeking the ultimate wisdom.
The Sai Satcharita says that despite a very comfortable and prosperous life, the wealthy man came to Shirdi, went to the Masjid, saw Sai Baba, fell at His feet and said, "Baba, hearing that You show without any delay the Brahman (Almighty God) to all who come over here, I too have come all the way from my distant place." I am much fatigued by my journey and if I get the [knowledge of] Brahman from You, my troubles will be well-paid and rewarded."
It is said that Baba replied to the rich gentleman seeking spiritual knowledge thus: "Oh, My dear friend, do not be anxious, I shall immediately show you the Brahman; all my dealings are in cash and never on credit. So many people come to Me and ask for wealth, health, power, honour, position, cure of diseases and other temporal matters. Rare is the person who comes here to Me and asks for Brahma-Gyana (Knowledge of the Self). I think it is an auspicious moment when a person like you comes and presses Me for Brahma-Gyana.…"
(However, the ensuing details of how Baba gave the seeker an experiential lesson in the supreme spiritual wisdom is very interestingly described in chapters 16 & 17 of the Shirdi Sai Satcharita and they go to show how genuine seeker's of God's grace are very rare, as most devotees tend to be only interested in gaining worldly favours from the God incarnate. – H2H Team)
Travelling to a Divine Home that is Puttaparthi
We used to live in Mysore in those days. Traveling to Puttaparthi was a long and arduous journey. We had to first come to Bangalore by train, and there switch trains to reach Penukonda. Then we had to continue the journey by bus till we found ourselves in the small town of Bukkapatnam. The frequency of this bus was very low, effectively only one per day. Needless to say, it was overloaded with passengers, often seated one on top of the other!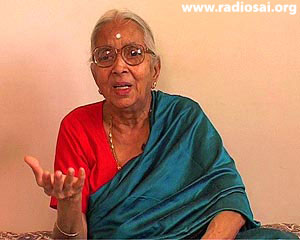 The roads weren't actually roads, but only mud tracks riddled with potholes. Once we reached Bukkapatnam, we had to take to the bullock carts. And this was a journey of another two hours! Once we came across the sandy banks of River Chitravathi, we often had to cross by foot as the cart would get bogged down by our weight.
After arriving at the eastern bank of the river, we had to trudge along a furlong or two to the old Mandir. But the homecoming was sweet. At the gates there would be Bhagavan Himself awaiting our arrival with a smile on His face! "Come, all of you, come. Have you also brought children with you?" Swami would usually ask.
Sometimes, the trip would be so exhausting that we would fall ill. Once, when we visited Puttaparthi during the summer, we had to cross the hot sandy stretch that was Chitravathi by foot. After the ordeal, my mother and my son developed boils on their feet. However, we could not expect proper medication in the hamlet, and they bore it all.
One day, during bhajans Swami came out, looked at us and started laughing. He told us that had they (my mother and son) washed their feet in cold water after the crossing, they would have been cured of the problem. He then advised us to apply a mixture of castor oil and cold water over my son's body. This we did and when it was time to return, we found at Penukonda station that there was not a single boil on him!
Singing with the Lord
The ladies would draw rangolis (floral decorations) in the shape of 'OM' at the old Mandir. Swami used to sit on this, and we sat around Him; the men on one side and the women on the other. We sang old village folk songs. Swami's sister, Mrs. Venkamma, used to lead the songs and the other ladies sang the chorus. Often there was no time limit to the bhajan sessions; they went on for even two hours.
Divine Gestures
Swami often created a small silver receptacle from the sands. He warned us that He would be giving us amrit (nectar), one drop each, and that we must be careful not to waste it because there would be no second chance. When administering the amrit into our mouths, He playfully commented about the way our mouths looked.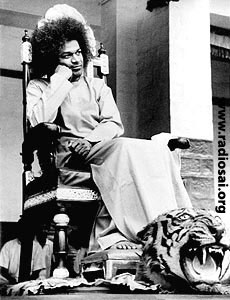 He used to say that for some it looked like that of a goat's, for another it looked like that of an elephant, and so on. At that moment we did not laugh at His jokes because we did not want to spill the nectar! We concentrated only on consuming the amrit. I must also emphasize that the small receptacle never became empty despite the number of devotees present!
On another occasion, my sister, mother and I, came to Puttaparthi. My mother asked Swami to give us a photo of Him. Instead Swami created an idol of Him which had the figure of Shirdi Sai Baba on the other side. My mother told Him that this was not what she had asked for. Swami, however, told her that whenever she became ill, she should bathe the idol, i.e. perform abhishekam and consume the holy water thus blessed. That would cure her.
On another occasion, when my mother and I went to see Swami, He gave her a photo. The image was wet. When mother asked Him the reason of it being in that condition, He said that the photo had just come from the studio lab after being processed, and hence the wetness!
From the mental diary of Mrs. Karunamba Ramamurthy - Part 3
Q: When did Swami visit your house and how did you react to Swami's presence in your household whenever He came on a visit? Also, how old was He then?
Kannamma (K): Swami was only a young lad of about nineteen or twenty years. Whenever devotees performed padapuja (worshipping His Lotus feet) to Him, He accepted it all. Swami used to talk to the puja participants and give them vibhuti prasadam. Food was then served to Swami and to all who had gathered.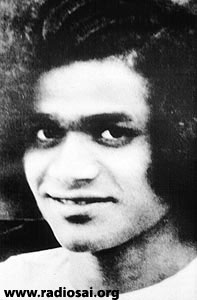 During the meals Swami Himself used to offer prasadam to all; He used to eat a little and distribute the rest as prasadam to all!
Mr. Ramachandra Shetty of Mysore used to invite Swami to his house. Those of us who were nearby also used to go there during Swami's visits. In fact, Swami used to visit all our houses – we were only about three or four devotees in Mysore then.
Q: Did you have a separate room for Swami?
K: No, we were not aware of such formalities back then. We were not even aware of how to arrange for things during His visit or even how to look after Him! Swami also never said that He wanted to stay here or there. Whatever we offered was accepted by Him. He used to partake whatever we offered. If we offered water or a cup of coffee, He used to drink. He did not seem as a new person in our house. However, slowly we learned how to offer our services to Swami
Q: Your mother was very devoted to Bhagavan and was fortunate to have interacted with Him. Could you narrate a few of her experiences?
K: There once lived a woman called Venkata Lakshamma in a hamlet called Namadala near Dharmavaram town. This woman was referred to by the villagers as a yogini (ascetic).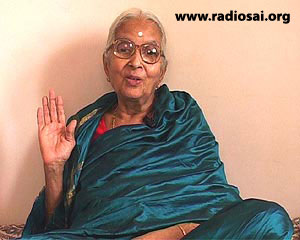 This woman once visited our house. Unaware of who she was, we used to find her ways amusing. She used to be very silent, not talking too much to anyone. Often at nights, she used to sit and do japam (chanting His name); she wouldn't lie down and sleep. My mother was impressed and thought that Venkata Lakshamma was powerful, practicing pranayama and other spiritual exercises.
My mother was enthusiastic to learn from her. And eventually, she invited my mother to her village to initiate her to a sacred mantra. She told my mother that she would be emancipated by the chanting of that mantra. That is why, as I told you in an earlier interview, Swami refused to initiate my mother saying she was already initiated and asked her to continue with the same mantra.
Whenever Swami went to the Chitravati river, He took devotees and children along with Him, without leaving anyone in the Mandir. Just like a flock of sheep we used to follow Him.
Once we all went for such a trip to the holy river. My mother sat a little away from the group. Swami created many things and distributed to all around. He also created medicine for those in need. One minor, though interesting, point to note is that even though His hands were under the sand, not a grain of sand used to stick to His fingers.
After distributing such prasadam and things to those around, He called my mother. Swami commanded her to take a handful of sand herself and see what was inside it. To her surprise, she found a small paper roll. My mother told Swami that as her vision was not clear, she would read it once inside the Mandir. Swami agreed. When she opened the small roll of paper later, much to her surprise, she read the same mantra that Venkata Lakshamma had initiated her to. Any vapor of doubt totally vanished after that.
My mother treasured that small piece of paper all her life.
About a year later, the new Mandir came up. Hearing about Swami, Venkata Lakshamma came to Puttaparthi to see Him. There she met Mother Easwaramma. She also met my mother here and enquired about her about the progress of her spiritual efforts or sadhana. My mother told her that Swami had confirmed the initiation and the mantra. My mother, however, also told her that despite constant repetition of the mantra, she seemed to be going nowhere.
She had doubts about her emancipation. To this the yogini said, "You have just caught a big branch of a tree. Swami will look after you forever, don't worry!" Mother replied, "Swami is not saying anything. He keeps silent. Will I get emancipated?" The yogini replied that Swami was retaining my mother in His presence and that He was watching her progress. She said, "Once Swami has told you to stay only here, he has to uplift you totally. Never leave this place. You need not do anything else."
Venkata Lakshamma used to live near the old Mandir. Once, Easwaramma visited the old Mandir. When they met, they both hugged together and felt very happy. It was more than a coincidence that earlier Easwaramma and Venkata Lakshamma lived together in a house in Kothacheruvu village.
Q: We have heard that Swami Himself had operated upon a devotee called Tirumala Rao. Could you please narrate to us about that divine operation?
K: The operation took place during the inauguration of the new Prasanthi Mandir. At that time Saubhra, Sundramma and I were present. The operation occurred a few days before the inauguration of the new Mandir. Tirumala Rao was an ardent devotee of Bhagavan. When his wife was working in Madras (now known as Chennai), he suffered a terrible stomach ache, something similar to appendicitis. He and his wife consulted doctors in the city.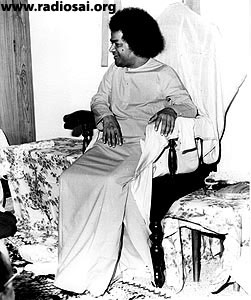 The doctors examined him and concluded that there was a severe problem and that even an operation may not solve the problem, in fact, they did not even guarantee his life. They emphasized that only if he signs the risk clause, would they consider operating him. His wife then thought that if he has to die, why should he die in the hands of these doctors? Rather, it is better to exit this world in Prasanthi Nilayam in Swami's presence.
Thinking thus, she brought him to Swami's physical presence. She surrendered to Swami. "Oh Swami, I don't know whether You will save him or not. With full faith in You I have brought him to Your feet." Swami asked them to wait. The next morning was the inauguration of the new Mandir. All items required for the inauguration ceremony were stored in the old Mandir.
Swami said, "You let him sleep beside Me in Subbammma's house." Hence, Tirumala Rao slept there. But lo! When he got up next morning there was no pain in his stomach. There was no trace of ulcer or any unusual growth inside! Everyone was amazed.
On that night, Swami patted on his stomach and cured every thing miraculously with one touch and with in a day or two he got the New Mandir inaugurated
Tirumala Rao was supervising the construction of New Prasanthi Nilayam work along with two other devotees. His wife was actually worried that they may not be able to attend the inauguration function.
Q: I think that was the first operation that Swami performed.
K: Yes! It was His first operation. Tirumala Rao did not know even that an operation was performed on him!
Q: You told us earlier that Venkamma used to ask Swami to offer arathi! Please share some details.
K:In those days Swami used to offer arathi to His previous incarnation, Sri Shirdi Sai Baba, whenever a devotee came to Him complaining about a snake bite or scorpion sting. After Swami offered the arathi, the devotee's pain used to vanish miraculously!
In fact, whenever Swami was hungry, He offered naivediyam (sacred food) to Shirdi Sai first and then ate. Swami used to offer fruits and flowers to deities Himself.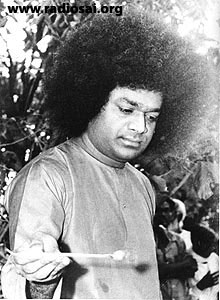 In fact, even when Swami was present at the Venugopal Swami temple, whenever a marriage procession came there, they used to offer arathi only to the deity and neglected Swami! The village folk of those days were still not aware of His divinity.
At other times, whenever someone wanted to cast away an evil spirit, they used to come to Swami. Swami even in those days never used to touch women. He used to take hair from His feet and tie them together. He would then create a yantra and place the hair inside the yantra. This was tied to the wrist of the sufferer as a talisman. The evil spirit would be instantly exorcised!
Some onlookers would question Swami as to whether the spirit would return on their children. To this Swami would say, "I have closed its nose so that it cannot breathe. Further, I've controlled it by the yantra." In those days such 'spirit' possessed sufferers occupied almost half of the old Mandir hall.
Many young men used to visit Swami in those days. They had all sorts of queries in their minds. Some wanted to know whether they would get married, others wanted to know about their jobs. Swami used to advise some people to marry while others He dissuaded.
He questioned the young men about the jobs they sought. He insisted that they should not join the police force or become advocates. If anybody professed an interest to join these vocations, He became unhappy. He used to say that these jobs had the power to punish. He was against any innocent being punished wrongly on the basis of false witnesses.
Swami advised young men not to be lured by foreign countries. He used to say that people can go to foreign countries, but should not settle there. They should always remember India's eternal heritage. He used to emphasize that there is no other country which can be compared to India in the upkeep of eternal heritage.
In those days, rich Zamindars (land owners) used to visit Swami. However, they feared Him because Swami spoke openly about their secrets amidst all devotees. Some village folks misunderstood Swami and felt very angry. They felt that Swami would take money from the rich and would materially look after the welfare of the village. When Swami didn't seem 'material' enough, they became dissatisfied and started dissuading devotees and visitors from visiting Swami.
The Story of Venugopal Swami Temple
In the place where the old Mandir was constructed there once existed a big Tulsi garden. A sage called Narayana Rishi is said to have performed austerities here a long time ago. Also, this is the place where Valamiki Maharishi is also believed to have performed penance. That is why this place acquired prominence. Once Swami asked us whether we knew the story of this temple.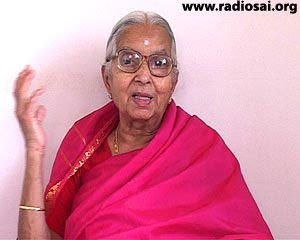 The story goes like this: One day a cowherd noticed that his favorite cow contained no milk in its udder when she returned after the day's grazing. To know what was happening, he secretly followed her and watched her movements. What he saw astonished him! The cow slipped out of the shed leaving her young calf with her sister and proceeded to an ant hill on the outskirts of the village. He followed her to her rendezvous only to witness an even more astounding spectacle!
From the anthill emerged a snake and started feeding itself from the cow's udder. Enraged at the loss he was subjected to, the villager lifted a stone and taking a good aim hit the snake. However, before it died it cursed all the cowherds of the village. Its last words foretold that the village would soon be full of anthills. Needless to say, very shortly anthills spread all over the place and the village came to be known as Puttaparthi.
Later, a cowherd went and dug the snake pit and found an idol of Venugopala Swami. The idol had a wedge on one side and red streak over it, suggestive of the blood of the killed snake. Sometime later, a local chief known as Palegras built a temple and installed the idol in it. From that day onwards, the curse lost its potency and cattle began to thrive at Puttaparthi.
Swami's Tapovanam - Peace, Happiness and Wisdom Granting Meditation Tree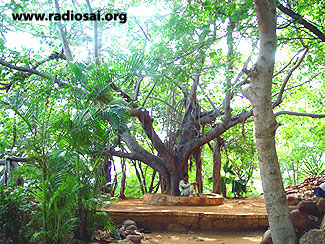 We all have read about saints meditating while sitting under banyan trees. Even the Buddha did penance under a 'Bodhi' tree and got enlightenment. Swami once told to us that He will create a copper plate yantra and plant a tree over it. In the future, this place would also become a Tapovanam (place of penance).
Swami once materialized a copper plate bearing inscriptions, from the sands of Chitravathi. On that day we were seated around Swami. He levelled the sand before Him and wrote something on it with His finger.
He then dug His fingers in the sand and brought out a thick plate of copper with inscriptions on it. Then Swami declared that the next day He would take this plate and install it under the roots of the Vata Vriksha tree. He also stated that whoever sits under the tree and meditates, would be granted peace, happiness and wisdom.
The next day Swami called all the devotees who were there at that time, and established Tapovanam. This was on the June 29, 1959. (This is the meditation tree that is still flourishing up the hill, on the way to the Museum and the Sri Sathya Sai University Administration block.~ H2H Team)
A Divine Revelation…
During one conversation Swami said that in His next avatar He would be in a village between Mysore and Bangalore.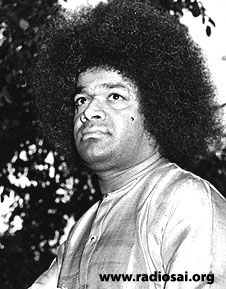 He said that the essence of His teachings in this avatar would be received in full by devotees in His next avatar. On why He chose to take three avatars sequentially, He said that humanity will not be able to withstand His colossal power had He come as a single avatar.
Sakamma (a respected coffee estate owner who was very devoted to Swami) told me this amazing news once during a conversation. Once while travelling to Bangalore from Mysore, Swami had mentioned to the group that was travelling along with Him (of which Sakamma was a part) that he will take birth again in Karnataka.
Swami had got down on the road and told the group that this would be the place. He had also mentioned that he would take birth in the household of a poor basket maker. He then resumed His journey.
Swami Performs another Operation
Once (during the days of the old Mandir) my mother and I were seated along with a couple of other women devotees during darshan. A women and her husband had come to see Swami. The gentleman seemed to be suffering from constant stomach ache. He felt that it was due to excessive heat as he had the habit of eating spicy food.
Hence he ate everything that reduced heat. When Swami came out, we asked Him to cure the poor gentleman as he was suffering greatly. Swami said that He would do something for the devotee, but he did nothing and six months passed by.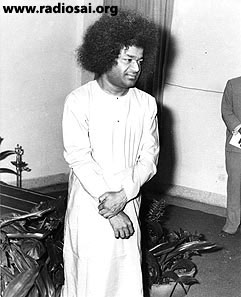 On a certain day, my mother and younger sister happened to be sitting in the bhajan hall of old Mandir. Swami sent for the suffering devotee and told him to lie down. Swami told the man that He himself would perform an operation on him to cure him of the ailment. "It will not give you any pain. You can eat fully afterwards," Swami said. All the devotees present were looking on. There appeared to be a bud-like projection that was emitting pus.
Swami washed His hands and with just His finger made an incision into the man's stomach. He then removed the lumpy mass with His bare hands. Swami then cleaned his stomach and washed His hand.
He did not stitch the wound. Four stitches formed automatically closing the incision. Swami then told the devotee to rest and to consume substantial food only at nights.
The devotee's wife asked her husband as to how his stomach felt to which he replied that there was totally no pain.
In the evening Swami asked us to cook food and serve the devotee. Swami was looking on while the gentleman was eating. There appeared to be a projection on his stomach. Swami with His bare fingers removed the lump of pus. No knife was used, no running doctors nor attending nurses.
The Sai Avatars are Unique
Swami was once talking to Dr. Alreja in the bhajan hall of the old Mandir. Swami told him that the Rama avatar and Krishna avatar had come, completed their mission, and left in their respective eras... and they would do so again in the next cycle. But the Sai avatars are unique. The Sai trinity would not come again in subsequent Kali Yugas. So do not miss this opportunity. He added that this is the first and last of its kind so make full use of this avatar. He also told the devotees to spread the message of the Avatar for the benefit of mankind.
Swami Cures Relative's Diabetic Condition with Sugar
My mother's brother-in-law worked at the Julas railway station in Karnataka. He was a severe diabetic. To top it, he was very short tempered and used to often scold people. He even used to beat my aunt. One day he scolded my mother at the railway station. My aunt was unable to bear this behavior of my uncle. She beseeched my mother to take him to Swami as He alone could cure the person of his problems. My mother agreed. My uncle overheard this conversation, but he agreed to come to have Swami's darshan!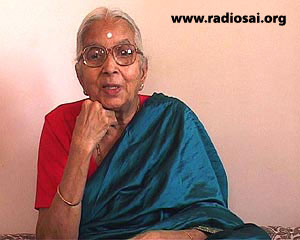 They planned to go to Puttaparthi during the Dassara festival. As a part of the celebration, devotees had prepared varieties of food. There were sweets and rice dishes of many kinds. Swami asked all devotees to sit down while He served them Himself!
As Swami came down the aisle serving all, He put a large measure of Sweet rice (chakarapongal) on my uncle's leaf. My uncle pushed the portion out of his leaf due to his condition. However, Swami turned back and told him, "I know that you are a diabetic, however, I want you to eat it!" My uncle took back the portion he had pushed away and ate it.
Three days later when he went to the doctor to get his blood-sugar level tested, the doctor was surprised. There was no trace of diabetes in him – he was miraculously cured of the condition!
Due to his anger Swami used to call him Durvasa, after the popular sage of yore who too was known to be very short tempered. Swami told my uncle that his health is okay. However He also warned my uncle not to give vent to anger anymore and to control his tongue. Swami then created a Rudraksha mala (special rosary) and presented it to him, asking him to wear it.
From that moment on, my uncle became a changed man!
From the mental diary of Mrs. Karunamba Ramamurthy - Part 4
He Hears All Our Pleas
During the days of the Old Mandir, we were often blessed with the opportunity to offer Pada Pooja (worship the feet) to Swami. During one such occasion, Baba sang a song that went as "Kamalamba! Please remove my mental worries!"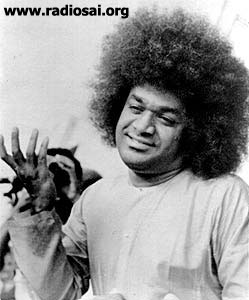 It happened that there was a devotee present there by name Kamalamba who, needless to say, was surprised to hear Swami singing the song that she used to sing many years before. She asked Him, "What is this, Swami? I was singing this song long back! How is it that you are singing it now?
Swami replied, "You would sing this in your kitchen after cooking, when you felt tired and weary. Of course you only praised Me with this song, and now I am singing it for you to remember. How many years have passed by since those days?"
The lady narrated that she was married at the tender age of 11 years (child marriage) to her husband who was a tempestuous and angry man. They did not get on and he never helped her in her household chores. When he would leave the house, she would console herself by worshipping the Mother Goddess.
It was then that she used to sing this song - "Kamalamba, shower your Grace!" When she calculated the time period, we were startled – this had occurred before the birth of Swami's body!
The Account of Earning Punya
On another occasion, two disciples of Swami Shivananda of Rishikesh, called Sadananda and Chidananda, came for Swami's darshan. They would neither eat in the canteen nor anywhere outside. So, Swami called my mother and said, "You have to cook and serve them from tomorrow."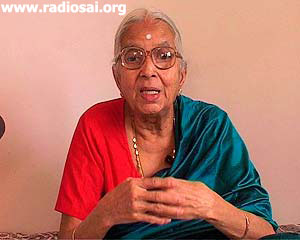 There were no electric lights in the Old Mandir, we used only oil lamps. When they were about to take meals at night, they themselves used to light the lamps, and after partaking food, they would throw out the leaves and clean the floor neatly.
My mother was perplexed at their behaviour, and said that she would like to do all this for them. However, the monks told her something quite interesting: "If a daily labourer, who earns a hundred rupees a day, has his wages cut by five rupees, he feels very sorry. Whatever time he serves us in a day, we have to compensate him an equal amount of 'punya' (the fruits of virtue) from our earnings."
"We try to earn 100% of our share of goodness out of our penance. If others serve us we will lose something. Even if we don't give anything to them, it automatically accrues in their account. That's why we will not allow anyone to serve us. This treasure, the fruit of penance, is very subtle and we don't want to lose any by taking others' services."
In those days, when we were a handful, Baba used to tell us to carry out all kinds of service activities, even though some of us protested. There were many buildings coming up, and this involved the shifting of stones and sand, and the carrying of baskets of construction materials. Swami never said 'no' to anyone who wished to participate and told us that "Any type of service performed near Me will yield great punya. You don't know how much virtuous effect or punya you have acquired - but I know. So, do as much as you can and ignore the small physical discomforts involved.
Singing Bhajans – a Potent Sadhana
Once the Swamis, Sadananda and Chidananda, asked my mother how was it that there was such a relaxed atmosphere in the ashram? People wear good clothes, move about and talk freely; it appears that no one is performing any sadhana (spiritual practice). They were perplexed as they were used to practicing severe austerities in simple hermitages.
My mother answered them by saying that Swami taught His ashramites to perform bhajans every dawn and dusk daily by His side. Then, the monks went and asked Swami, "Why is it that You have not taught any sadhana and penance?"
Swami replied, "My devotees earned holy power in their past lives. When I incarnated due to their prayers, they reached Me and are staying here. For you, there is a lot of sadhana yet to be done. So, you carry on and do it."
They were very happy and understood how bhajan singing is a way to reach God. Swami never told them to leave the path of their own sadhana.
He Bears the Brunt of Our Suffering
Swami had one day invited my daughter-in-law to come to Puttaparthi with her children. However, just before leaving for Puttaparthi, a dog bit my second son. His leg became infected and he was in great pain. Though he was under doctor's treatment and was administered injections regularly, we all went to Puttaparthi. Swami was very happy at our arrival and welcomed us joyfully.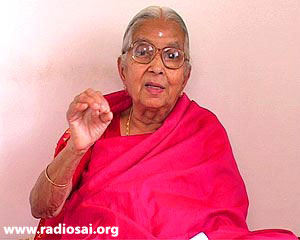 It was a very hot summer and I was worried where the children would play. My fears were confirmed when my grandson, Neelu, had his foot run over by a lorry. His foot was severely injured, and one toe was separated from the others; it was bleeding profusely.
In those days (1950s), in Puttaparthi, there was a very small dispensary room with limited medicines. My elder son went and reported to Swami this tragic incident. Swami immediately pulled back His sleeve to reveal His hand, and there he could see the impression of a lorry tyre! Not only that, there was profuse blood flowing from it!
We laid down our grandson in the veranda of Prof. Kasturi's house. Swami used to come and visit him every day and would ask Prof. Kasturi too about him. It took one month for the wound to heal completely, but even after that he was not able to walk without a limp. We were quite concerned about his condition, and our minds were full of questions.
During one of His visits, Swami came, sat on the veranda and talked to our family. He said, "Do you all know why I have called you here? If this accident had happened at your place, what would you have done? The boy might have died there. I averted a worse situation. Who would have looked after you there?"
Then my elder son told Swami that even though we might be away, Swami could still look after us there. Swami replied, "It is not like that. Let all difficulties be experienced here in My presence. That is why I called you all here. Do you understand? If it happens in My presence, the impact will be less." We were overcome with His grace and marveled at His loving care for us.
Astounding Grace and Healing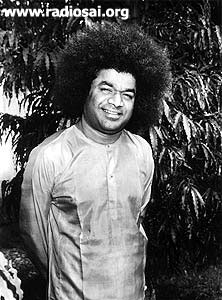 At one period, smallpox struck all three of my sons; boils sprouted all over their bodies, they vomited and the whole night was spent crying without sleep. I wrote a letter to my mother who was at Puttaparthi, to return home to help us in this hour of distress.
She took the letter to Swami and said, "Swami, I will go to Bangalore. My daughter is unable to look after the children with this ailment. I will help them a little, by at least cooking for them." Swami asked my mother, what else would she do? She replied, "I'll pray to You, Swami."
"Why can't you pray here, instead of traveling so far? If you stay here I will look after them. Write My instructions to your daughter but don't go there." Then my mother posted the letter to me.
Amazingly, all the boils on their body suddenly subsided and vanished. Their eyes also were cleared. Their fevers abated and they began to regain their former health. Right from the time of Swami's instruction to my mother at Puttaparthi, my children in Bangalore were relieved of suffering. How powerful are Swami's command and word!
The Wonder of Sai Prasadam
My son, Sathish, had an injury on his leg and subsequently, a lump had developed. As I had said earlier, Swami had granted him rebirth when a lorry had run over his foot. After this lump showed up, he started talking strangely and used to bite his teeth frequently. However, Swami avoided any question I put to Him about my son. Days passed, and suddenly the boy's leg swelled up. I asked Swami what should be done. He said, "None of you should stay here in Puttaparthi; leave before evening."
I silently acquiesced to Swami's wish. A devotee called Ravindra from Kobugu in Mysore state offered to help us, saying "I have brought my car here. I can take your son and drop him at Chimpangi railway station where I have some other urgent work. From there all of you can go by train."
We accepted his kind offer and reached Bangalore where we admitted him in a hospital. The leg was swollen like an elephant's, and the doctors thought his illness was untreatable; they did not take as good care of him as they should have done, and believed that amputation was the only option.
At this time Baba visited Bangalore, and was staying at the residence of Mr. Shetty, an ardent devotee. When I heard this news, I went to Swami and told Him that the doctors had decided to amputate my child's leg, and asked for my consent stating that otherwise he might turn mad or may even die. I told Him that I was being forced to take this decision.
Swami then said, "Some doctors behave very strangely; they make amputations too readily. Do not allow them to do this. I will give you vibhuti right now. Take this home and put in his mouth. That's all - he will be cured."
I gratefully accepted the vibhuti and did as He said. The very next day, all the fluid from his leg drained out, and he became normal. The doctors were shocked; they wondered how the legs suddenly looked healthy without even an operation! I told them how Swami's prasadam had done the magic.
"Be like a child and Swami will look after you" - Baba
We went to Swami again and reported the improvement. He compassionately told us, "Do you know why I drove you out from Puttaparthi. If you had stayed there, one of you would definitely have died; it was bound to happen. Hoping that you would go home I ordered you to leave. Everything will be fine in future. All of you come to Puttaparthi for Dasara Celebrations."
Truly speaking, my son would have possibly died, or become insane. Even after his recovery, the doctors advised us not to send him to school, as due to his mental impairment, the teachers may mistreat him, and that could make his condition worse.
When I came to Puttaparthi next time, I reported the doctors' advice to Swami. And Baba told me not to worry. He asked me not to send him to school but let him live in Puttaparthi, and that He would look after him. From then onwards, he stayed at Puttaparthi for a long time.
He had medical problems affecting his head and legs, and also suffered mental illness. The doctors would continue to drain pus from his body. One day, Swami wanted to see this specimen. And after the Lord Swami saw it, he was completely alright - fully cured!
Is this not a wonder? Who else can do this? This is possible only for God. We have overcome many hurdles like this, with His grace alone. He guides us in the present and will always do so in the future. But, our mind should always be stable and steadily fixed on Him alone.
Always exhorting us not to worry, on one occasion, Swami said,
"I will remove all your problems. I have come down to earth only for this purpose. But if you are having more bad karma, I will leave some part of it for you, which will present some difficulties. Don't blame Me for that trouble. If you can cross over that karma peacefully, you will receive My full grace.
"How does a little child ask if he needs something? He cries and the mother looks after him. Be like a small and innocent kid and Swami will at once take care of you. You need not do any great deeds. Simply chanting God's name is the best sadhana for you."