Ladies day is celebrated on 19th November each year, coinciding with the honouring of Mahila Day (Women's Day) in the Hindu culture, which is celebrated on the 19th of each month. Between the years of 1995 and 2003, Sai Baba gave divine discourses on Ladies Day.
Sathya Sai Baba initiated Ladies Day to encourage women to celebrate, learn, remember and practise their sacred duty in their critical role as women and mothers.
To honour Ladies Day in 2018 we have an article by Brigitte Kashtan from Israel who describes the spiritual journey which brought her to Sathya Sai Baba and the transformation she has experienced through following His teachings.
A Story of Inner Transformation
It is my humble privilege to share my personal story of transformation, by Swami's loving grace.
I was born in Belgium, and grew up in Belgium and France, in a Catholic family, and in Catholic schools run by nuns, dressed in black. These devoted and austere teachers taught us what they knew and understood about the first great lady I heard of, Maria, Jesus' mother.
At the age of nine, during the month of May, which was consecrated to Maria, I remember having decorated a small altar in my room to honour her and even expressed to my parents the wish to become a nun. That wish was not encouraged and was replaced by long years of a quest for Divine parents in whom I could trust.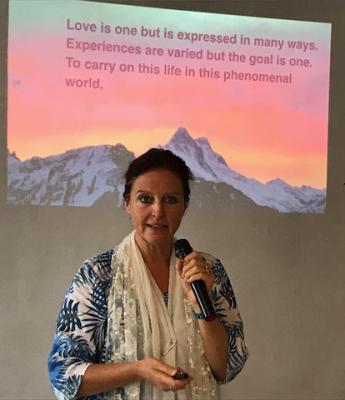 I felt that I had lost the naive faith of my childhood and was now trying to understand the meaning of all that is, in a rational and logical way. During long intellectual and philosophical investigations while studying in the universities of Paris, and while learning psychology and philosophy, I encountered in books the first great teachers who offered a more universal understanding of spirituality. I felt I could trust these teachers who embraced mostly Indian and Tibetan Buddhist wisdom: Mahatma Gandhi, J. Krishnamurti, and Sri Aurobindo. I discovered many other books in my search for a common universal truth.
I did not understand then that my entire life was guided by Swami's compassionate and all-knowing hand. My marriage brought me to live in Israel. I did not find in Judaism, the religion of the country, any clear connection to an Eternal Feminine Principle. Even through trying to learn Kabbalah, the mystical Jewish tradition, the concept of Shehinah (Divine Presence) remained in my eyes an intellectual abstraction without any heart connection.
I went on looking for truth and for the Eternal Divine Principle.
Travelling to Germany to receive Mother Meera's darshan, I found in the book, The Mother, written by her close disciple, Adilakshmi (1987), a few sentences that reached my heart and which plucked a long-forgotten string that has been resonating in my Soul ever since:
"When I surrender to the Mother, I surrender to the beauty, sweetness, and unfathomable wisdom of a loving and all-knowing parent."
Answering a question, "What is Realised Man like?" The Mother answers: "Like a child at peace in the womb of the Mother, knowing he is sustained at every moment by the grace and light of the Divine Mother."
"This is how I would like to live, sustained by the grace and light of the Divine Mother, and protected by the Heavenly Father".
How far I felt from that realisation, but how much I longed for such a state of consciousness! That sentence started the long way back home to the heart of the Divine Mother.
Another such sentence, read in Benares in Lahiri Mahasaya's house, also revealed a deep and ancient inner knowledge: "Until the awakening that a strange and benevolent energy is encompassing all that is with its brilliant intelligence, there is no way out of the circle of birth and death."
On my path, I had also reconnected with another Great Mother, Isis, the goddess of Egypt, thanks to a spiritual teacher I met in France. He offered a deep metaphysical understanding of the universal truth shared by all religions in their core. I followed his teachings for many years and it is from him that I heard of Swami as a true Avatar, one who could be trusted. My gratefulness to him as my first guru is eternal.
How did Swami call me back to Him at last? After talking with other members, it seems that quite a few of us in our quest for finding a spiritual family in the country and a way to help and be helped on the spiritual path, had joined a group of meditation for peace. In that group was a lady who had Swami's picture in her room and that is how some of the first people from Israel experienced the Divine call. They arrived in Prasanthi Nilayam in the early 1990s.
These early devotees created groups, we joined them, and meetings were held. Together with study groups and learning devotional songs, we marveled at stories of miracles lived or told by those who had experienced and witnessed them. Swami's call was now consciously felt and experienced.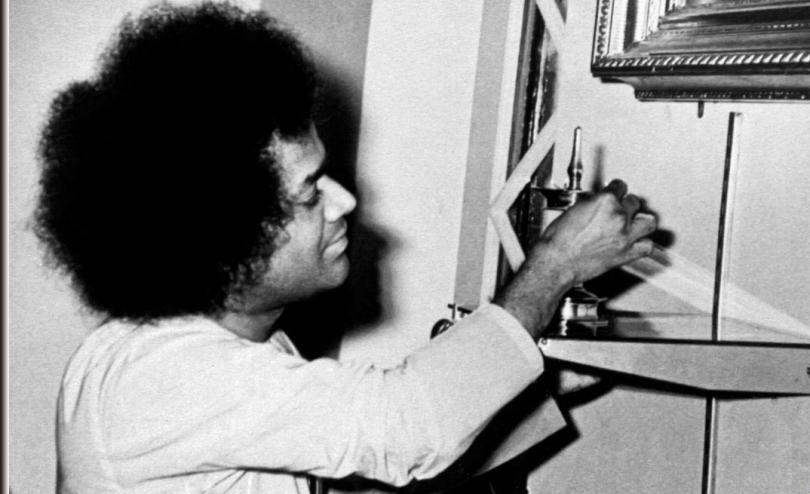 My first visit to the ashram was during Christmas 1997 when my children were old enough and after my first spiritual teacher's death. We (a small group of three ladies) were told by others to ask Swami for an interview. Instead of concentrating on enjoying and experiencing His blessed presence, all our energy was focused on the interview wish which was not granted. Nor were the letters taken, not even a direct look. I understood only later that Swami in His infinite grace had blessed me with His "special workshop", "polishing the diamond", reawakening past feelings of rejection so that they may be healed by His love.
After coming back and sharing the disappointment, some people's feedback was that they were able to feel Swami's energy through me like an antenna and that He had redirected my energies toward Divinity.
Further visits were quite similar, each time focusing on another deep wound until more inner peace and trust were granted.
Dreams with Swami came. His infinite love and compassion were experienced in these inner darshans, miracles were experienced, wishes were fulfilled. Little by little, in spite of all the distrust accumulated, together with the feeling of not being worthy nor loved enough, my heart opened enough to consciously accept the Divine Parent in it.
After all these years of illusory control on my life, steps were taken toward surrendering my life to His loving care.
Gradually, I understood that He is indeed the Divine Father and Mother that I had been looking for all my life— omnipresent, omniscient, omnipotent, all loving and compassionate, always forgiving. Realisation helped me progressively let go of the more warrior inner masculine energy typical of those who believe they have to take care of themselves alone, and accept the more feminine inner surrendering into His loving arms. Trust, in His infallible and perfect guidance, started to blossom.
He is Shiva-Shakti and helps us realise the inner marriage of these polarities in ourselves, the supreme and eternal inner dance of the two complementary deities.
On the auspicious occasion of this Ladies Day, may we be even more conscious of and grateful for all His infinite blessings, as He is eternally the Divine Mother carrying each of us in Her loving arms, healing our wounds, taking us along the path towards union with the Divine.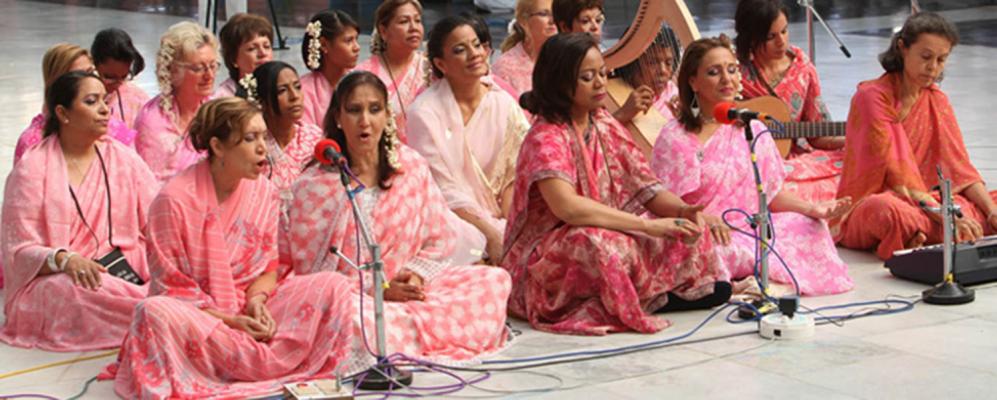 The entire universe must be considered as the temple of God. The eternal world will reflect your thoughts. If you view the world with love, it will appear as filled with love.
Sathya Sai Baba, July 24th 1983
- Brigitte Kashtan, Israel