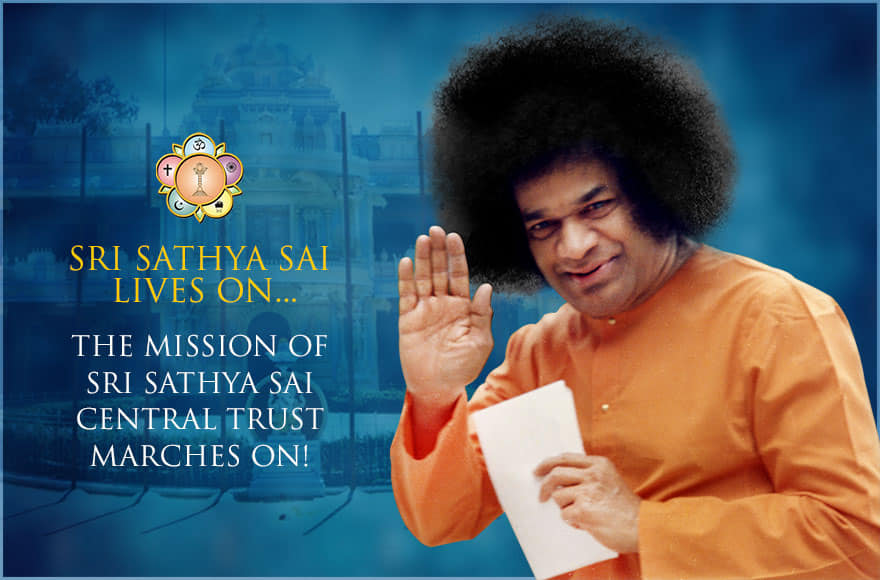 "I will be happy with any kind of service you render. Spend your money to help the needy. Assist in the provision of water. Meet the educational needs of the people and provide medical relief. Do everything for the good of society and not for the sake of an individual. Have the nation's welfare in your mind."
- Bhagawan Sri Sathya Sai Baba, November 23, 1995
Be it the Gujarat earthquake in 2002 or the Tsunami debacle in 2004 or the Odisha cyclone in 2008, Bhagawan always reached out to the distressed and forlorn, Sai workers went to villages and settlements where no one had visited and gave them a new life.
Even to this day, the Sri Sathya Sai Central Trust continues this mission with that same passionate zeal to heal the sick and needy.
Today as the world is grappling with the trauma caused by a medical emergency, the Sri Sathya Sai Central Trust is again in action to help the nation.
On March 31, 2020, Mr R J Ratnakar, the Managing Trustee of the Trust, announced that "the Sri Sathya Sai Central Trust would be donating all the medical supplies required for the 14 quarantine centres set up in the district of Anantapur, Andhra Pradesh. Each quarantine centre now has 100 beds. We will be spending Rs 1.8 crore (18 million) for this noble cause."
Assuring the Collector of Anantapur District, Mr Gandham Chandrudu all help in these difficult times, he added, "the Sri Sathya Sai Central Trust is committed to alleviating the suffering of the people in this district to begin with."
In fact, Sri Sathya Sai Central Trust has been working hand-in-hand with the Sri Sathya Sai Seva Organisations present in every state of India to come to the rescue of the distressed.
For example, in Kerala when the Sai Organisation came to know that the government needs 25000 masks in every district of this state, the Sai volunteers swung into action after getting approval from the government about the right quality of cloth. They also set up "hand-washing centres" for the auto rickshaw drivers, vendors and workers.
Similarly, Andhra Pradesh offered one lakh masks to the government prepared by Sai women volunteers working from their homes. A lakh or more masks are now being prepared by Sai devotees in Telangana, Tamil Nadu and so on.
In fact on March 30, 2020, the Prime Minister of India Mr Narendra Modi was in a video conference with Mr R J Ratnakar as well as Mr Nimish Pandya, the President of All India President of Sri Sathya Sai Seva Organisations, and Mr Modi was informed of all the initiatives being taken by the Sai Organisations and how many more medical and social outreach programmes are being planned.
One moving story unfolded on the morning of April 1, 2020 in Puttaparthi.
A middle-aged police constable from Anantapur was posted to work in the government quarantine centre in Puttaparthi which is located right opposite the Super Speciality Hospital.
As he went to report for his work after his breakfast, he felt tremors and palpitations in his chest. A colleague immediately took him to Swami's hospital, which was just few metres away.
Even though it is a period of lockdown everywhere, the emergency department of the hospital is ever alert. He was quickly examined by the cardiac doctors who suspected some malfunctioning of his heart.
Dr Iyer, the Head of Department of Cardiology, decided to immediately operate on him. "One of his vessels was damaged, we put a stent and by God's grace averted a major heart attack which could have endangered his life. It all happened in half an hour," he says, and asserts,
"To me it is purely Divine grace. To be present just in front of the hospital when his discomfort started, to be checked in record time and operated in less than 2 hours, especially in these times when there is absolute no movement of people and vehicles, is nothing but Divine grace. We are grateful to Bhagawan for these opportunities to serve those who are risking their lives to help others day in and day out."
"When you work selflessly for society, God will take care of your safety and security" has been the assurance of Bhagawan time and again, and we see that in action wherever good work is done as an offering to the Divine.
Even as masks are been prepared, and the poor and neglected in slums and desolate areas are being given food, medicines and clothes, Prasanthi Nilayam ashram continues its daily prayers non-stop inspiring Sai devotees world over to pour their heart out in praying for the affected no matter where they are.
That is how hundreds and thousands of devotees at appointed times are doing Gayatri Mantra chanting, bhajans, sacred book reading and so on, from their homes, so that we raise the positive energy of this planet to such an extent that the negativity surrounding it is subdued and terminated, giving rise to a new morning of hope, health and happiness.
Sri Sathya Sai lives on…, the mission of Sri Sathya Sai Central Trust marches on!